Social Cohesion Minister, Dr George Norton has denied reports that his placement at the Department of Culture, Youth and Sport is solely for the mobilisation of Amerindians for the People's National Congress Reform (PNCR), while at the same time not ruling out any special emphasis being placed on that section of the Guyanese population.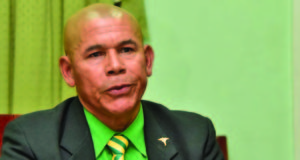 Political Analyst, Dr Henry Jeffrey, is quoted in local online media reports as saying the new placement of the Minister is expected to assist in Government's political mobilisation of Amerindians.
Norton told Guyana Times during a brief telephone interview he has always been a strong advocate for Amerindian rights in Guyana and stated that that section of the population has been marginalised with respect to national representation at the sporting level.
He used as an example the fact that Guyana's under-19 national football squad does not include a single Amerindian player and juxtaposed this reality with the dominant performances of the Waramadong team.
He spoke of the excellent performances at the domestic level by Amerindian athletes but this is not replicated at the national level, since Amerindians are not afforded the opportunity.
Cognisant of a possible backlash from the other ethnic groups in Guyana if there was to be special emphasis placed on the Amerindian grouping, Dr Norton told Guyana Times that in order to achieve a 'level playing field', there must be special emphasis placed on that group.
Asked specifically about mobilising Amerindians for political purposes, Dr Norton told this publication it is no secret he has been a long-standing advocate for Amerindians rights and this will not change.
Dr Norton conceded that he is a senior member of the PNCR leadership but insists his advocacy for Amerindian rights did not pose any conflict of interests with his new designation as Minister with responsibility for Culture, Youth and Sport.