A 33 per cent reduction in incidents of breakage and entry has been recorded in the Police 'B' Division since new Commander, Paul Williams, has taken over at the helm of the division; but the murder rate has climbed.
The Commander revealed that, over the past five weeks, five murders have been committed in Berbice, but all of them have been solved.
There have also been four robberies committed with the use of firearms, but three of those have been solved.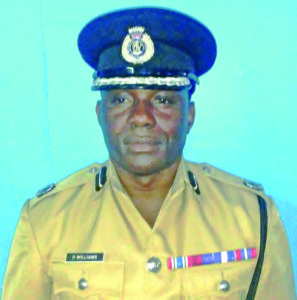 There have been 18 reported instances of break and enter and larceny, and persons have been placed before the court for 10 of them. In two of the matters, justice has been served.
As it relates to illegal drugs, Commander Williams has said the Police have made five interceptions and two raids at the New Amsterdam Prison, and also found a bag with a quantity of marijuana which was thrown over the fence.
"As it relates to traffic," he said, "we had two fatal accidents, and both have been solved. One was on the West Coast of Berbice and the other on the East Coast of Berbice."
He disclosed that in recent times there has been a proliferation of noise coming from sound systems installed in vehicles. On many occasions, there have been sound slashes and other loud music being played from these vehicles along Main Street, New Amsterdam, and on some occasions, early morning church services have been disturbed.
"In view of the police presence as it relates to Main Street and other places, we have been able to have those places under control, and (we) have (had) the full cooperation of the general public," he explained.
"What we are doing now is that we have deployed ranks in the busy shopping areas, and also I have sought the collaborative efforts of the various municipalities to have the (Town) Police and us working together to police those busy shopping areas and Rose Hall Town, Corriverton, and New Amsterdam," the commander revealed.
This, Commander Williams said, is to ensure police dominance over all situations and to ensure that a proactive approach to crime fighting is maintained.
Commander Williams attributes the success 'B' Division has been enjoying to the cooperation the police have been receiving from Berbicians since he assumed leadership of that division on July 23 last.
"There is still a challenge being posed with break and enter and larceny, but so far we still have a thirty-three per cent decrease as it relates to break and enter and larceny," the Commander said.