Balgobin Ragnauth took top honors in the inaugural STP Investments Golf Tournament held on Saturday at Lusignan Golf Club, shooting a gross 90 off a 25 handicap for a net 65.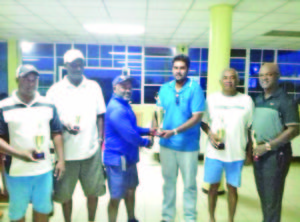 With the rough recently mown it was a day for the high handicappers who had little to fear from any errant shots. Greens were also receptive having been recently sanded. Second place went to Mark Lashley with a 91 (24) 67 and third to Deno Bissessar 96 (28) 68. Best Gross went to Avinash Persaud with a 77 and nearest to the pin Dinanauth Mohanlall.
The event was well attended with 25 participants and STP's Managing Director Sanjay Persaud said he was happy to be a sponsor and hoped this would become an annual event.