Rawle Toney 3×3 Classic…
The Rawle Toney 3×3 Classic is set for staging this weekend, and Allegiance Corporation and JD Carn ICT Guyana Incorporated have come on board as sponsors. They handed over jerseys and cash cards to this tournament's founder at a simple press conference held at the 704 Sports Bar.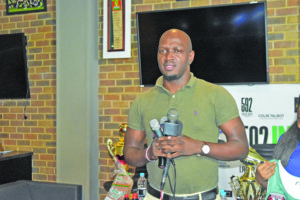 A total of eight jerseys were handed over by JD Carn ICT Guyana Inc to be used in the finals. Founder of the tournament, Rawle Toney, has said he is overjoyed that the company has come on board in support of the inaugural event.
Toney has promised to register this tournament on '3x3planet' which can be located on the official FIBA site (https://www.fiba.basketball/3x3planet). This, in turn, would place the tournament on an international spectrum, and if ever there is need to select players for an international matchup, the 'Rawle Toney 3×3 Classic' can be looked into.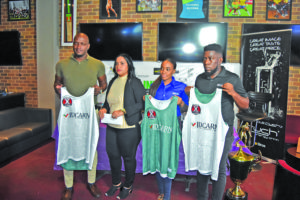 Company Secretary of Allegiance Corporation, Rhonda Roberts, has also said that the company, while new to the market, is happy to be a part of such an initiative, and will continue to support it in the future.
A purse of $300,000 will be up for grabs for the winner of this round-robin/knockout tournament. The team finishing second would pocket $100,000 while third place winner would get $50,000. The person deemed the 'Most Valuable Player' (MVP) in the finals will receive one pair of basketball sneakers of his choice.
Distribution giants ANSA McAL, under their Mackeson brand, are the tournament's main sponsors, and will be joined by the Guyana Lottery Company's Let's Bet Sports, 'STUFF', Slingerz Family Entertainment, the National Sports Commission (NSC), and Trophy Stall.
Guyana Amateur Basketball Federation (GABF) will also be handing over $25,000 to the winner of a three-point shootout.
The tournament will also be held at the Burnham Basketball Court in Georgetown from November 9 to 10, and will commence at 18:00hrs on both days.