Two masked bandits, who attacked and robbed a hot dog vendor on the Essequibo Coast, Region Two (Pomeroon-Supenaam), received a sound trashing after they were caught by residents.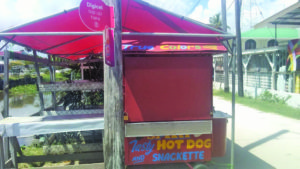 Reports are the men, armed with knives, attacked hot dog vendor, Jonathan Banarsee, popularly known as "Saki" at about 21:00h on Friday night while he was selling along the roadside next to Shawn's Mini Mart in Cotton Field, Essequibo Coast.
According to Banarsee, the two masked men pounced on him and demanded that he hand over all his money. He said that both men were armed with knives. He said that the men took away about $200,000 in cash and valuables and ordered him to lie flat on the roadway. However, the vendor said that he instead made a dash from the bandits and began screaming for help.
The staff and customers, who were at the Shawn's Mini Mart, heard the man's screams and responded. As the bandits ran away, residents were hot in pursuit and they were eventually cornered.
The angry crowd trashed the men before calling the Police and handed them over to law enforcement ranks.
According to the vendor, this is the second time for the year he was robbed. On the previous occasion, he was attacked at his home by a lone bandit after he was finished selling.
On that occasion, he said that he believed that he was followed by the bandit who held him at knifepoint as he entered his yard.
Meanwhile, Police have since arrested the driver of a 212 Toyota motorcar, who is believed to have transported the men and were waiting on them a short distance away. Police are continuing their investigation.