As preparations continue for the hosting of next year's March 2 General and Regional Elections, the Guyana Elections Commission (GECOM) is awaiting the accreditation of foreign observers before going ahead with approving local observers.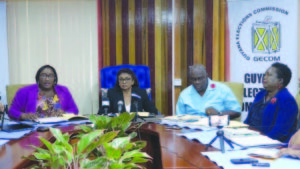 This is according to GECOM Chair Retired Justice Claudette Singh, who, at her first press conference on Friday, dismissed claims that the Commission does not want observers around leading up to next year's polls and has been blocking foreign bodies from scrutinising its work.
"That is not true. GECOM welcomes all elections observers," she insisted.
The GECOM Chair went on to point out that it is not the function of the Elections Commission to accredit foreign observers.
"That is an executive function, so that will be done by the President and Foreign Affairs [Ministry], not GECOM. Our duty is to accredit local observers and that would be done as soon as the foreigners are accredited," Justice Singh said.
At Friday's press conference, GECOM Public Relations Officer (PRO) Yolanda Ward disclosed that thus far, four local organisations have expressed their interests in observing the elections. These are the American Chamber of Commerce (AmCham) Guyana, Guyana Public Service Union (GPSU), Private Sector Commission (PSU) and the Georgetown Chamber of Commerce and Industry (GCCI).
Last week, the PSC and GCCI said that it has been weeks since their applications were sent to GECOM and they are yet to receive a response as to whether their requests to observe the upcoming polls were approved.
However, Chief Elections Officer Keith Lowenfield explained that there is a process in accrediting agencies as elections observers.
"For anyone to suggest that we're delaying their accreditation, should know there is a process. For example, we don't know what our OLE (Official List of Electors or voters' list) will look like, we don't know how many polling stations we will have and things as such. So once these processes are satisfied… the Commission will deliberate and provide the approvals for these groups to submit whatever else is required, long before elections. It's too early in the process for us to do that at this point in time," Lowenfield stressed.
Advisory assistance
Meanwhile, the GECOM Chair noted that in addition to the observers, GECOM has also accepted advisory assistance to oversee its operations heading into the March 2020 elections.
She revealed that the Commonwealth Secretariat has made two advisors available, former Chief Elections Officers of India and Ghana, who are expected to arrive in Guyana later this month and will be here leading up to, during and after the upcoming polls.
"Those people are coming as advisors to GECOM as a whole – the Commission, Secretariat and myself. They would oversee everything, all operations before, during and after elections," Justice Singh noted.
Already, GECOM is benefiting from the expertise of former Chief Electoral Officer of Canada's elections body, Jean-Pierre Kingsley, who started working last month. However, Kingsley, who has 17 years of electoral experience under his belt, is not staying in Guyana but remains in contact with GECOM and will have periodic visits leading up next year's elections.
He is expected back here on November 18.
It was noted that the terms of reference (ToR) of Kingsley's appointment do not allow him to meet with political parties. Meanwhile, the ToR for the two advisors from the Commonwealth Secretariat has not been finalised but is expected to be completed before their arrival here later this month.
While GECOM welcomes this assistance, Justice Singh said that persons can be assured of the credibility of the March 2 elections with or without outside help.
"Everything is being done by GECOM to produce free, fair and credible elections. No one should have doubts about that. Everything is being done [to ensure credible elections] and so we welcome everyone to have a look – all these foreign and local observers. We're not shutting the door on anyone," the Chairperson stated.
Only recently, the People's Progressive Party (PPP) Opposition had underscored the urgency for international oversight in the electoral preparation process to ensure credibility.