U-18 Football league…
As if it were 'deja vu', Lodge Secondary and Annandale Secondary are head-to-head after the completion of Round Two of the Guyoil/Tradewind Takers Secondary School league.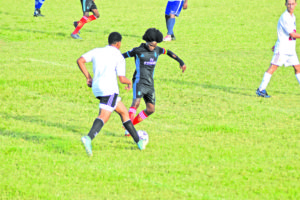 These two schools had often battled for the top spot in this league in 2018.
Lodge Secondary pushed their tally to two wins from as many games after defeating Queen's College 4-1 on Wednesday evening. Queen's College had started the competition on a high, having thumped Charlestown Secondary 3-1, and had seemingly brought the winning momentum to their encounter against Lodge.
And, surprising, Lodge had another slow start, as the Queen's College's defense had held off this quick-fire outfit.
The first goal of the encounter came off the boots of Lodge's Curt Edwards in the 17th minute, and the scores remained at 1-0 for the remainder of the first half. Then a hard-fought equalizer came in the 40th minute when the Queen's College captain, Diarra Thomas, found the back of the net for what was eventually his team's only goal.
However, Lodge eventually found their momentum, and three more goals were sunk in the QC net in rapid fire.
Nicholas Trotman etched his name on the score sheet in the 51st minute, and his captain Dorwin George followed suit in the 55th and 57th minutes, thus enabling Lodge to prevail 4-1 against QC.
After a close first game, the Bishops' High School were finally able to bag a win when they faced off against Cummings Lodge Secondary. Bishops had missed out on a victory by just one goal in their first-round game against defending champions Annandale, and thus sought to control their meeting with Cummings Lodge. The Bishops' two goals were spread evenly, with one in each half, as they mounted a solid defense to restrict their opponents.
Following a foul committed in the box just before halftime, Bishops' goalkeeper Makayah Smith took the penalty opportunity, and connected it cleanly for the school's first goal, and Malachi Richards netted the second from open play in the 53rd minute as Bishops' recorded a 2-0 win.
Also in winner's circle was Marian Academy, after edging past St. John's College in their Round Two game. After playing with deadlocked scores in the first half, Marian got their breakthrough from standout player Ricardo Percival in the 42nd minute. While their defense had weakened in the second half when they lost to Lodge in the first round, the Carifesta Avenue school did well to 'keep it together' against St. John's. Thanks to their goalkeeper, the all-white clad team managed to hold off the by then frantic St. John's squad in order to bag the much-needed victory.
The under-18 school league is expected to continue on Sunday, November 10, with Round 3 action.