Even before sunrise on Thursday, sugar workers attached to the Albion Sugar Estate were at the picket line. They marched the three-quarter-mile stretch from the Corentyne Highway to the estate, demanding better pay.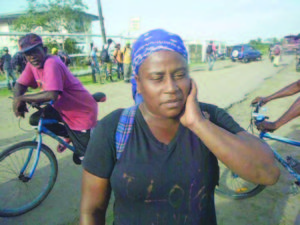 The workers contended that it is far too long that they have been without any rise in pay, while the cost-of-living has risen significantly within the last few years.
The protest was supported by the General Agricultural Workers Union (GAWU).
GAWU on Thursday said declines in the real and nominal incomes of sugar workers have been a most difficult pill to swallow for the workers and their families. They have had to really curtail their living standards as they seek to live within their new means.
According to GAWU, the situation for the workers has also had an impact on the communities. The Union said it is a stark reminder of the importance of the sugar industry in rural Guyana, where job opportunities are limited and usually concentrated just around one or two endeavours.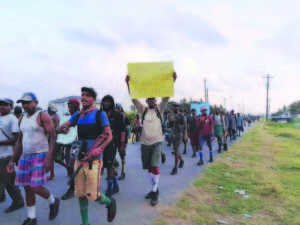 "The reduction in incomes has reduced consumption which has affected the shopkeepers, the greens vendors, the fishermen, the bus and taxi operators, and so many more," the Union said.
The last pay increase was in 2014. Today, some workers said they can no longer continue to work for a declining wage amidst an increase in the cost of living.
"We need wage increase – now," they chanted.
According to many of the workers, over the past four years, they have been earning less while prices in the market continue to rise.
It is against this backdrop the protest was held.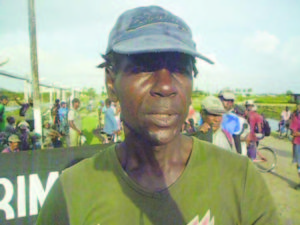 When the protesting workers arrived at the factory, they called out the factory workers who all joined the strike— shutting down operations. All of the 175 factory workers were on strike, along with 1517 of the 1567 cane harvesters. Also on strike were 244 of the 340 cane cultivators, 63 of the 85 field workshop workers and 59 of the 74 mill dock operators. The strike also saw 24 of the 29 mechanical tillage workers refusing to work.
Michael Inderdat, an executive member of the Union representative of the factory workers, explained that the workers have gone without seeing an increase for more than four years.
He said it is overbearing and threatened that if management does not heed to their demands, their action will intensify. However, he noted that any further action will be a decision made by the Union. Meanwhile, Inderdat said several sections of the factory are in urgent need of repair while noting that repair work to fix broken parts become a weekly feature.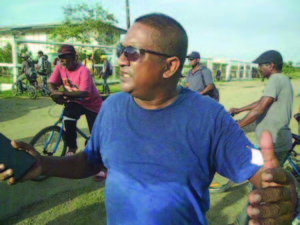 This, workers said, had resulted in them being unable to work all week.
Victor McKenzie, a cane harvester, explained that the wage freeze has been affecting him negatively. He said three of his six children are attending school.
"It is not easy to send them to school. Then you have bills and mortgages".
To supplement his income against increases in the cost of living, Mackenzie said he would go fishing to provide for his family.
Roopnarine Mahadeo, another cane harvester, told this publication that they are now working without being paid for holidays – a benefit which they enjoyed under the previous administration.
According to Mahadeo, the workers have not been receiving a bonus for attaining their targets because of bad management.
"It is not our fault that we are not making the target; the factory breaking down every week… we are willing to work but we only getting three or four-day work".
Women are also equally affected by the wage freeze. According to Sharmila Lilboy, who works with the weeding gang, the treatment that they are receiving is unfair.
"We are working very hard but they only giving us five-day work. When holiday fall during the week, they na gee abe wuk and plenty of we is single parents," the woman said in her native Corentyne dialect.
She added that the workload has also increased, making it impossible for them to attain their daily task.
"Some days you carrying home $1300 or $1600. It very hard fo we. We need awe money".
A more reserved Urika Marks, who has been employed with the Estate for the past fourteen years, said her wage is too small.
"When holiday come, we don't get to work. And the four-day money is lil bit. Sometimes you don't get enough four-day money. Sometimes you wuk whole week and just draw $6000".
Regional Representative of the Union, Harvey Tambron told Guyana Times the sugar workers were expressing themselves because the time has expired for GuySuCo to make an offer.
"GuySuCo should engage the Union and the administration should play a meaningful role in getting the sugar workers an increase in wages and salaries for 2019".
He recalled that from 2015, sugar workers saw no wage increase, while public servants benefited from wage increases and the bonuses.
"Workers are left without anything; hence, this protest is a way for them to express themselves. It is most unfortunate that with the festive season approaching, workers have to take to the streets protesting for increased wages and salaries".
Tambron appealed to whatever sources might be available to make an appeal to the management of the sugar company in an attempt to persuade it to engage the Union meaningfully so that sugar workers can look forward to an increase in 2019.
He said the Union has been watching as operations are being scaled down and there had been a wage freeze. But that, he said, is only at the bottom level.
"Jobs are being created for certain people and way above the salary of what many have been working for four years. The salary for managers remains a secret. Sugar workers have experienced a steep drop in the earnings for the past three years and this year, their purchasing power has been depleted because the cost of living is on the rise".
He said it is very difficult for the sugar workers to cope.
"And the records would indicate that many persons from the sugar industry are now leaving seeking other jobs and going to neighbouring countries seeking jobs. Some are leaving and going into the fishing sector because sugar is not paying them. They are not earning enough to support their families," he explained.
Tambron called on the management of GuySuCo to pay more attention to its human resource.
"If this is done, then they will want to come out and will also perform; hence, production will improve. And so, we can move GuySuCo forward. They shouldn't be trying to stifle these workers for all these years. It is unfortunate that this action has to be taken just to get the attention of management. How much more can sugar workers take?" Tambron questioned. (Andrew Carmichael)