The skyrocketing unemployment rate in Guyana has been the centre of discussion in recent time, as many youths are completing their studies without much opportunity to acquire a lucrative job.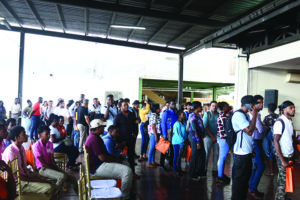 As such, hundreds of persons flocked the El Dorado Offshore career fair on Thursday at Parc Rayne, Rahaman's Park, which was geared at lowering these statistics and providing human resources to the budding oil sector.
The company would have partnered with other stakeholders in the oil industry to engage Guyanese on the fields that are available, as well as training if they are not satisfactorily qualified.
There was a queue of persons waiting to submit their resumes, records and CVs (curriculum vitae), all with the intention of securing a job. By the end of the morning session, officials calculated that over 350 persons would have been processed after submitting their recruitment documents.
According to Business Development Director of El Dorado Offshore, Mariska Jordan, support is provided through a number of means. SMB Offshore, the Matpal Institute, and the Offshore Training Institute were some of the agencies to forge partnership to extend information about other aspects of the oil and gas industry.
It was noted that some persons were indecisive on the career path which they want to pursue.
"Here, you can have a one-on-one because we have some persons coming in that don't know what exactly they're looking for, what offshore positions are available, how to get involved. We're directing persons that need a few additional credentials to build up their resume".
Some of the attention was also placed on the preparation of a resume and other skills that can assist an individual in securing a job.
"We're offering locals an opportunity to see how they can get involved in the oil and gas sector. We're giving tips on how to write resumes depending on the position you need. We have a few clients that are willing to talk to everybody to understand what their needs are in the coming years [and] currently," Jordan highlighted.
Guyana Times caught up with one of their partners, the Offshore Training Institute, which is known primarily as the operational skills provider. Managing Director Neil Bispat admitted that there is a great demand for training in Guyana.
"We provide training and certification for equipment operators, both for the offshore and onshore industries. We have a very high demand from individuals in Guyana for the particular courses because the oil and gas is a new industry and the safety standards are being lifted," Bispat pointed out.
He added, "If El Dorado Offshore is looking for employees in whatever skill area, we have persons who would have completed training on a database so we shortlist and bridge that gap".
Recent figures from the International Labour Organisation (ILO) have estimated youth unemployment in Guyana to be almost 23 per cent. To further compound this, the Caribbean Community (Caricom) has found that 80 per cent of prosecuted crimes here are committed by youths between the ages of 19 and 29.
However, a new Guyana Labour Force Survey in 2018 had found that the unemployment rate here to be 12 per cent in the third quarter of 2017, with high disproportions of both women and youth.
The survey was first of its kind in Guyana in recent years and highlighted that unemployment during that period was 37,119. This figure includes 15.3 per cent of eligible females against 9.9 per cent of eligible males and 21.6 per cent of youth aged 15 to 24 and 28 per cent of young women.
Finance Minister Winston Jordan had flagged Guyanese for crying foul over the lack of job opportunities when foreign nationals are entering the country and getting jobs.
This statement did not go down well with Opposition Leader Bharrat Jagdeo, who later opined that Guyanese are settling for high wages, hence, jobs often go to those foreigners who are willing to accept meagre salaries.
"Is this the Government's policy that we must allow immigrants to come in to undercut the labour market. I hope the TUC (Guyana Trades Union Congress) hears this, that we must undercut Guyanese who are working… He's saying that bringing in immigrants here, because they work for cheaper, would be beneficial to the economy so that they can undercut Guyanese labourers because they work for less wages than they do. So, our people must not get employment or they must lower their wages to match those of the immigrants who are coming in to work," he stated.
Next week, another 2200 students will be graduating from the University of Guyana, during its 53rd convocation. This amount is far superior to 1700 recorded last year and these persons will also enter the job market in keeping with their majors.