Uncollected ID cards
Chair of the Guyana Elections Commission (GECOM) retired Justice Claudette Singh has defended the decision to remove thousands of persons from the voters' list who failed to pick up their National Identification (ID) Cards, saying that this verification process is provided for in the laws.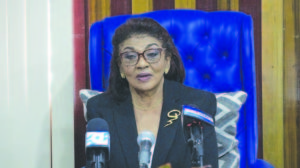 Speaking at a press conference on Friday, her first since taking up the post at the helm of GECOM, Justice Singh pointed out that in addition to ruling that GECOM cannot remove names from the National Register of Registrants Database (NRRD), acting Chief Justice Roxane George had also ruled back in August that the Commission can use any form of verification to verify the names on the voters' list either in conjunction with the House-to-House Registration exercise (which she had ruled was lawful and not unconstitutional) or separately.
It was on that basis, the GECOM Chair said that they employed the current process to cleanse the voters' list of persons who have not uplifted their ID cards since the 2008 House-to-House Registration exercise. This, she noted, is provided for in the Proviso to Section 66 (a) of the National Registration Act Chapter 19:08 as amended by Act 14 of 2005, which states that the Commission can utilise verification of the list at any time.
"So this is the procedure being utilised to cleanse the list… We just want to verify the existence of these people. They should come forward and say well I'm alive," she contended.
GECOM had revealed that close to 20,000 ID cards have been uncollected since 2008 and as such, a decision was taken to remove the names of those persons if they do not verify their existence.
Commencing today, the Commission will be publishing the names of these persons in the four national newspapers as well as sending, via registered post, a notice to them. They will then be given a 21-day period to go in and verify their existence.
However, concerns have been mounting over GECOM's intention to remove thousands of persons from the voters' list for not uplifting their ID cards.
But according to the GECOM Chair, it is not about the uncollected ID cards but really about the verification of these persons.
"If these people do not appear, their names will be taken off the OLE (Official List of Electors or voters' list) and place on a list which is supplemental. It will still be the OLE or schedule or whatever you want to call it, but a supplemental list to the OLE and if they should turn up on elections day, they will be allowed to vote," Justice Singh noted.
However, she explained that these persons will have to show up with a valid passport or some other form of identification that will be outlined in the publications in the newspapers. She noted that in addition to the supplemental list, there will also be a Folio at the polling station containing the names of those unverified persons.
According to Justice Singh, the supplemental list will be at the polling stations on elections day for "greater scrutiny" since those persons were never verified.
"We need to verify, the law says that… So it is not GECOM's intention to disenfranchise anyone and this exercise is not a witch-hunting exercise… It's just a verification process and all we want is the person to come forward and verify their existence. That is all there is to this exercise and this is provided for by the law," the GECOM Chair contended.
Meanwhile, it was revealed that a total of 19,502 names will be published of persons who failed to uplift their ID cards over the past 11 years.
Chief Elections Officer, Keith Lowenfield told reporters at Friday's press conference that 2008 recorded the highest number of uncollected ID cards with 12,079. He added that 1404 uncollected cards were recorded from last year's two registration cycles.
"The largest amount, I should say, still remain from 2008. What has happened progressively from 2008, the uncollected numbers, they have reduced significantly to where we are at in 2018," the CEO posited.