– rather than barring them from working night shift
With the Social Protection Ministry's dogged move towards barring single mothers from working the night shift offered by security firms; a member of the Women and
Gender Equality Commission (W&GEC) is arguing for a different, more comprehensive approach.
According to notable women rights activist, Nicole Cole, women have an inherent right to work. She recalled that at a recent workshop, she had made a presentation that had made recommendations for how the Government could truly help single mothers working the night shift. She noted that Minister within the Ministry of Social Protection, Keith Scott, was present.
"This Minister listened to my presentation which included the recommendation of Government assisting single moms by subsidising night care services," Cole said in a recent interview. "Women have a right to work!"
"What is needed is assistance with the children who are left unprotected at home when the mother is at work at nights, hence my recommendation of Government subsidised night care services."
The activist noted that, at present, night care services are not a prevalent feature among Guyana's service providers. She noted that while putting mothers with very young children on the day shift can help, it would call for more consideration to be shown to mothers who their children depend on – and more comprehensive measures.
"It's not an easy road as a single mother when you have to work to feed the children," the social worker said. "Many mothers cry as they leave those children alone. They're really traumatised but have to go out to work; raising awareness of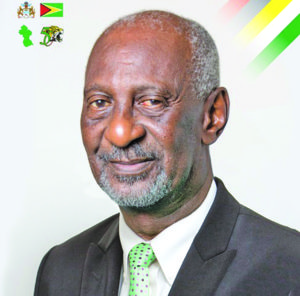 the importance of co-parenting in also very fundamental."
Noble idea?
Even though concerns were raised by stakeholders regarding Minister Scott's belief in barring single mothers from working the night shift for security firms, it was announced in a missive on Monday he has "no intention" of abandoning this "noble idea".
The Ministry made it clear that it plans to minimise and eventually eliminate night work for single mothers within the private security industry and as such, directives were issued to other Ministries.
"In pursuit of this noble idea the Honourable Minister is with immediate effect requesting his colleagues and other senior Government functionaries to take all feasible steps to give efficacy to the initiative," the missive said.
"Accordingly, they are asked to ensure that with immediate effect the contracts for the provisions of private security services provide for the exclusions of single mothers from night work," it continued.
But while the missive noted the Government's plan to eventually eliminate night work for single mothers, it went on to state that whatever policies are developed and implemented they "should not run counter to the individual desire of a single mother who may elect to work at nights."
"The Honourable Minister Keith Scott wishes to assure all interested stakeholders that this proposition is merely intended to promote the interest and safety of the family unit."
The desire to bar single mothers from night work was first expressed by Minister Scott during a seminar hosted by the Minister on August 24, 2017. The Junior Minister had noted that his Ministry was concerned with the work arrangement for female security personnel in the field and the effect it has on single mothers.
"Many days when I report for duty, I am pained and grieved to be greeted at 7:30am by a female security officer who had worked the night before," he had expressed. "I'm unsure whether or not the private security industry has carefully examined the impact which night work has had and continues to have on women…"
"I wish to submit without fear of contradiction that the level of danger to which the family is exposed increases astronomically when that family is headed by one parent only, who happens to be the mother and has to work all night while her children are left unprotected, unsupervised and to the mercies of possible predators.
We should not wait for indisputable evidence before we seek to minimise or control the level of night work to which our women… are exposed," he said.
Scott had expressed the belief that these are the kinds of dangers family members are exposed to when single parents work at night. And according to the Department of Public Information, the Minister had called for the development and implementation of policies to completely prevent women from working night shifts.