The exciting Guinness Cage Indoor Futsal Championship has reached its final, and it will be Ol Skool Ballers facing Future Stars come this Saturday at the National Gymnasium.
Coming into their respective semi-final encounters, both Ol Skool Ballers and Future Stars made it clear that they were not intimidated by big names and Saturday's results clearly justified their billing as the two best young teams in the indoor format.
Ol Skool Ballers first outlasted the experienced Back Circle in an enthralling slugfest that went right down to the final minute of play, with the final scoreline reading 3-2.
Captain Roy Cassou gave his team the lead in the 10th minute before Quason McAulay added another two minutes later to send shockwaves through the Back Circle band of supporters.
However, Back Circle hit back through Stephon McLean, who netted a brace in the game, opening his account in the 17th minute.
The Ballers' defensive tenacity repelled every attack, before they extended their lead when Fabian Crawford's goal five minutes from full time gave them the cushion they needed.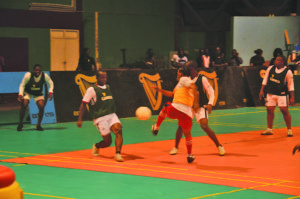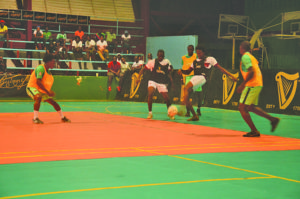 Again Back Circle would not relent and McLean was in the act once again, netting a goal one minute from the final whistle to put some more intrigue into the electrifying encounter.
The other semi-final between the resurrected Leopold Street and Future Stars lived up to all expectations despite no goals being scored in regulation time, forcing a penalty shootout that the latter won 2-1.
The tournament's leading goalscorer, Okanie Fraser was kept at bay all night as the Stars never lost sight of where he was, employing a two-man assignment whenever he had the ball and it worked effectively.
The same could be said for Leopold Street's tactics against the likes of opposing Captain Keiron Solomon and his supporting cast of Jamal Cozier, Akeemo Anthony and Jermaine Junior.
It promises to be a sizzling final, while the third-place playoff also has some amount of interest in terms of bragging rights.
The winners will receive $400,000 and the championship trophy, while the runners-up, third and fourth-place finishers will collect $200,000, $100,000 and $50,000 respectively.
The Most Valuable Player (MVP) will receive a gold chain, compliments of YK Investments and Pawn Shop and a trophy from Trophy Stall. Among the other sponsors on board are: Star Party Rentals, Faye Joseph, Claude Geddes Recreational Sports Club, National Sports Commission, Windjammer International Hotel & Cuisine, E-Networks, Woodpecker Trophies & Sport, YK Investments & Pawn Shop, Henry Chase, Jai Signs, Trophy Stall, the Bike Shop and John Fernandes Ltd.