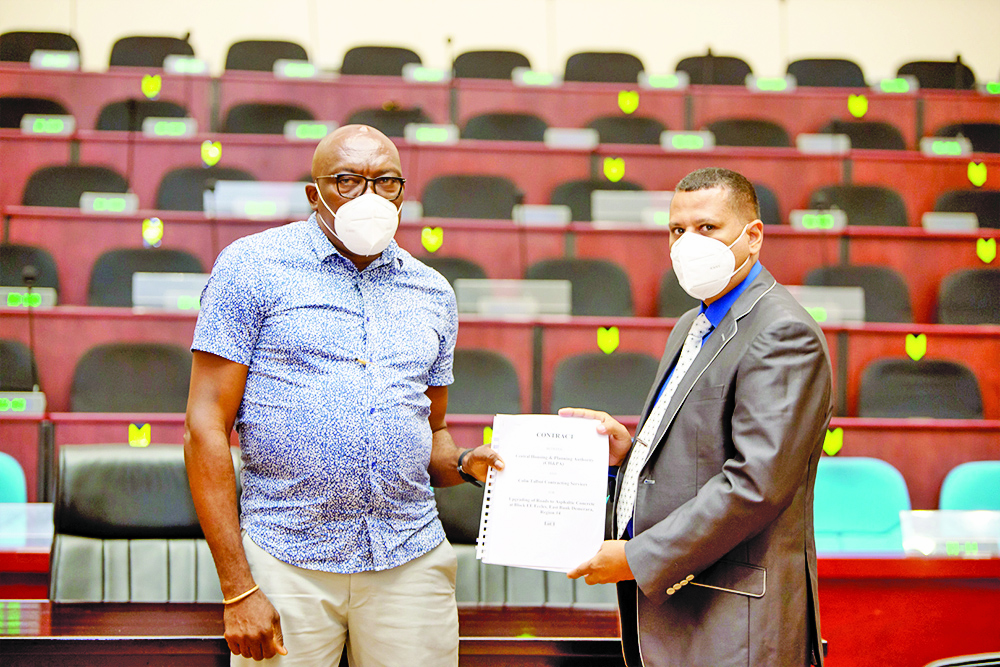 The Government has awarded over $1.1 billion in contracts to a number of companies for infrastructure works including upgrades to road networks and bridges in several housing schemes in the country, in a bid to correct deficiencies inherited from the previous A Partnership for National Unity/Alliance For Change (APNU/AFC) Government.
This was announced by Housing and Water Minister, Collin Croal, during the signing of contracts at the Arthur Chung Conference Centre on Monday. During the signing, 40 contracts to the tune of $1.1 billion were awarded to 22 companies for upgrades to areas that lack basic infrastructure.
This is in light of the fact that prior to the change of Government in August, over 2000 house lots were distributed this year by the former APNU/AFC Government even though the necessary infrastructure was not put in place, thereby making it practically impossible for persons to access the lands.
"When we provide and make available house lots, we want to make sure the infrastructure is in place. So that you can speak directly about homeownership. We have prior to getting in office, for this year alone, allocations being made of 2300 house lots," the Minister said.
"For which not one of those allottees can access the facility. And therefore, your signing here signals our intention to make those persons feel comfortable," Croal further explained to the gathering.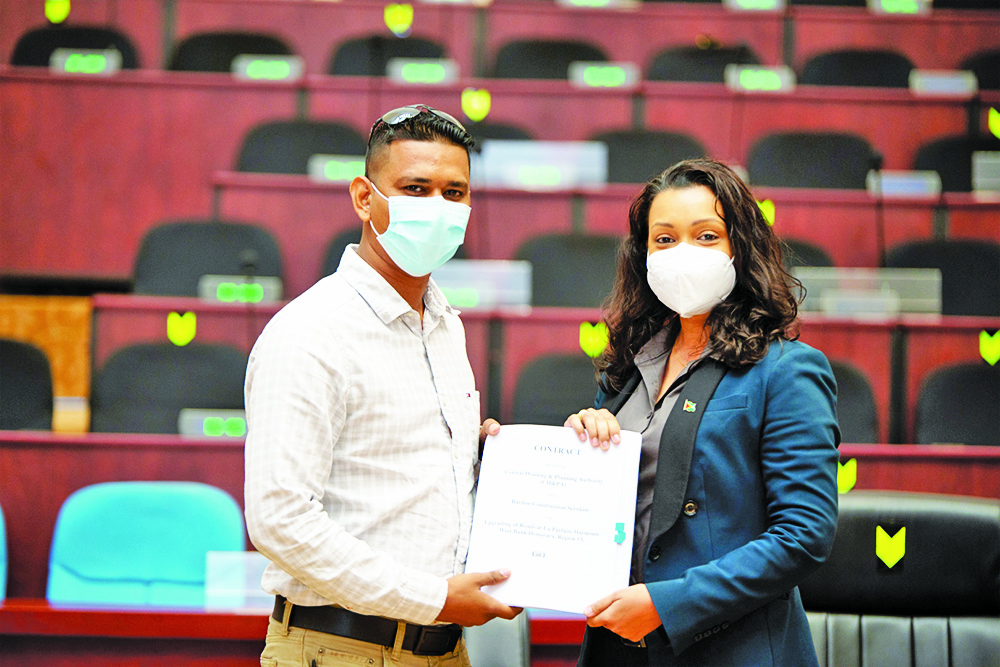 Quality work
Meanwhile, Minister within the Housing Ministry, Susan Rodrigues urged contractors to do quality work, while noting that the contracts will rectify the deficiencies of the lots that were awarded.
"These works officially mark the commencement of our vision to match our manifesto promise of 50,000 house lots over the next five years. In addition to the committed 50,000, our Government is tasked with making available the infrastructure for lots which were allocated under the previous Administration in areas where no infrastructural work has been done and, in some cases, completely inaccessible. Those areas are also included in the contracts being signed today," Rodrigues explained.
The contracts include road upgrades in Eccles, Herstelling and Great Diamond on the East Bank of Demerara (EBD) and La Parfaite Harmonie on the West Bank of Demerara (WBD).
In addition, works will be done on access roads in La Bonne Intention (LBI) on the East Coast of Demerara (ECD), Fort Ordinance, Williamsburg and Experiment, all of which are in Berbice. Works will also be done on a number of internal roads, including in Mon Repos, Prospect and Providence.
Since coming to office, the People's Progressive Party (PPP) Government has made it clear that it intends to fulfil its manifesto promise of distributing 50,000 house lots over the next five years, with the first 10,000 by next year.
During a recent Central Housing and Planning Authority (CH&PA) event, President Dr Irfaan Ali had disclosed that the Government is currently working on a series of initiatives aimed at financing projects for the local housing sector.
Among the initiatives being considered is the establishment of a Diaspora Housing Fund. The Head of State had also revealed that Government is looking at other areas of securing financing for the housing sector. This includes efforts to raise some US$250 million for housing projects.
Additionally, the Ministry will also be working with the National Industrial and Commercial Investments Limited (NICIL); the Guyana Lands and Surveys Commission (GLSC) and the Guyana Sugar Corporation (GuySuCo) to pursue land acquisition for housing developments.
Last month, Government published invitations for Expressions of Interest (EoIs) from interested parties to finance housing development. Entities desirous of participating in this financing activity are invited to submit a proposed term sheet detailing: interest rate and terms; detailed term sheet clearly outlining assumptions and expectations; time period to conclude financing; capability and experience of participating entity, and such other terms and conditions as may be relevant. (G3)