The $1.4 billion Urban Enhancement Project at Independence Boulevard, commonly referred to as Punt Trench Dam, in Albouystown, Georgetown, is set to open in the coming days.
Public Works Minister Juan Edghill on Monday conducted a walk through and site visit with contractors and workers to ensure all specifications of the beautification project were met. Following some minor final touches, it is expected to be completed soon.
The 1.8 km project, stretching from Saffon Street to Cemetery Road, has a double-lane carriageway on the northern side and a single-lane carriageway on the southern side.
Between these two carriageways lies a promenade outfitted with lights, benches, concrete drains and strategically placed garbage bins to ensure the maintenance of a clean and environmentally-friendly space.
In addition to increasing property value and easing traffic congestion, the project also aimed to create job opportunities as contractors were encouraged to hire residents within the area.
Phase one of the project–Saffon Street to Penitence Street–was executed by Rim Construction Inc; Phase two–Penitence Street to Garnett Street–was awarded to IB Contracting and Machinery Rental, and Phase three–Garnett Street to Cemetery Road–was done by CLL Contracting Inc.
The Boulevard Project, extending to Cemetery Road, also saw Avinash Contracting being responsible for the transformation of the road into four lanes.
Last year when the project was launched, Minister Edghill had stated that the Boulevard formed part of wider plans to modernise and transform the capital city of Georgetown.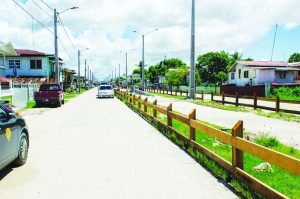 "People used to be frightened to drive through Albouystown and people will start liming in here now, people who did not want to buy property here are going to come in and start buying property and developing businesses," the Minister had stated, according to a Public Works Ministry social media post.
In order for the project to be properly executed, several informal residents residing along Punt Trench, Cemetery Road and Saffon Street were given alternative housing options as part of the Central Housing and Planning Authority's (CHPA) relocation and resettlement programme.