… shooting may have stemmed from old grievance – Police
One man has been arrested as Police continue with their investigations into Tuesday night's shooting at Islington New Amsterdam, Region Six (East Berbice-Corentyne). Guyana Times understands that Police have now received new information that the shooting stemmed from a grievance between the victim and the gunman.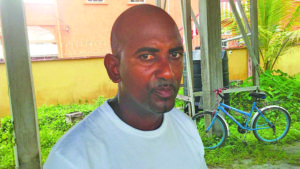 On Tuesday at about 19:30h, four gunshots were fired at Fenton Bell at his Lot 2 Islington, Greater New Amsterdam home, with one grazing his neck.
However, sources close to the investigation told this newspaper that Police were informed that on Monday night, shots were also fired at him.
Following Tuesday's shooting, residents reported to the Police that that was the second time in two days shots were fired at Bell.
Divisional Commander, Assistant Commander Linden Alves in an invited comment confirmed that one person is in custody and also noted that Bell did not provide the information which residents in the community have provided.
Alves said investigating ranks have been instructed to revisit the scene. "Having gotten additional information this morning [Thursday morning], I have instructed that the crime scene ranks return to the scene and comb it to see if they will be able to locate any spent shells. As it is the investigation is ongoing and we will try as hard as possible to bring the perpetrator to justice."
The Assistant Commissioner said Bell did not inform the Police that there was a shooting in the same area on Monday evening.
Police in a release on Wednesday said at about 17:35h, Bell having just parted company with a Policeman with whom he was having a conversation, came under a hail of gunshots, resulted in his injury.
Bell had told this newspaper that on one occasion, someone stole a boat and engine that he owned. <<<Guyana Times>>> understands that the boat was subsequently returned.
Alves speaking with this publication on Thursday, said investigators were told by Bell that he and an individual had an altercation earlier in the day. "He was not specific as to what caused the altercation. He did name the individual and as a result of that information, that person is currently in custody assisting with the investigation."
Reports are that two men in the community had a misunderstanding going back several years and one recently, ordered the death of the other and attempts were made on that person's life. Tuesday night's shooting is said to be as a result of that.
Police are continuing their investigation.