On Wednesday, in Phase Three Wisroc in Wismar, Linden, Region 10 (Upper Demerara-Berbice), a dramatic Police operation resulted in the shooting of wanted armed robbery suspect Randy Ronald Jerome.
The 33-year-old unemployed man was fatally shot about 11:30h during a shootout with Police at Wisroc. Injured is 23-year-old Ronaldo Chapman, called "Paki", of Wismar, Linden.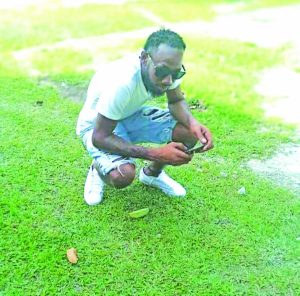 Police, in a statement, said that several ranks conducted an operation to apprehend several suspects who were at a house at Wisroc. According to Police, the men were suspected of committing armed robberies in Linden.
During the operation, the law enforcement officers said, the suspects opened fire on them and they returned fire.
In a statement, Police said that the ranks observed three men sitting on the verandah, but when the cops approached Jerome, he whipped out a firearm from his waist, pointed it at the ranks and discharged rounds at them.
"The Police ranks took cover and observed Randy jump from the verandah and begin running in a northern direction whilst continuing to discharge rounds at Police in a bid to escape. Detectives pursued him while returning fire," the Police statement read.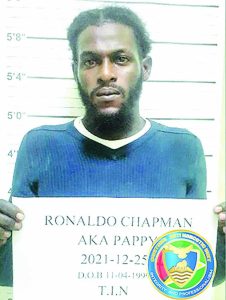 According to Police, Jerome was shot to his lower back. A black .40 Beretta Pistol containing three rounds of live suspected 9mm ammunition was retrieved from him.
During the operation, Chapman was seen at the doorway pointing a suspected firearm at a rank, whom Police said discharged a round in his direction, hitting him to the lower right thigh, which caused him to fall to the ground.
The rank then retrieved a JA 9mm pistol containing six rounds of live 9mm ammunition in the magazine and one in the breach.
Both men were rushed to a hospital, where Jerome succumbed to his injuries.
A search of the house unearthed a black plastic bag containing 75 transparent Ziploc bags filled with suspected cannabis and a portion of loose leaves, seeds and stems also suspected to be cannabis sativa, on a sofa.
The drugs amounted to 458 grams.
Chapman remains a patient under Police guard at the Linden hospital.
Ranks conducted searches in the area and recovered five suspected 9mm empty casings, Police said.
Chapman, called "Paki", of Wismar, Linden, was wanted for armed robbery and rape.
Chapman is no stranger to the law. Two years ago, he was remanded to prison for ganja trafficking. It was reported that on December 25, 2021, at Block 22, Wismar, he had 121.4 grams of cannabis in his possession for the purpose of trafficking. He was remanded to prison, and was subsequently released.
According to reports, Chapman was arrested by ranks of the Customs Anti-Narcotics Unit (CANU) after a search of a house in Block 22, Wismar unearthed several Ziplock bags and a black plastic bag containing cannabis concealed in a speaker box. (G9)