Police on the East Coast of Demerara (ECD) have arrested one suspect following an armed robbery at the Celltronicx store at Mon Repos.
Last Friday, the suspect and his accomplice entered the cellphone store, pretending to be customers.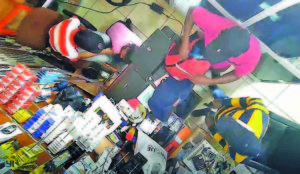 As one of the staff was about to assist them, one of the men whipped out a handgun, demanding that the staff remain quiet. The suspect then held the female staff at gunpoint, while escorting her further into the store.
The female employee along with a male employee were later placed on the floor and gun-butted as one of the bandits entered the office.
In CCTV footage, the suspects were seen emptying a glass case that was filled with cellphones.
In a subsequent interview, Imran Ali, owner of the store, told reporters that the men escaped with over 20 cellular phones and about $1 million in cases.
The hunt is still on for the second suspect.