–
nominee fears public humiliation
The Opposition has commenced the process of preparing a third list of nominees for the post of Chair of the Guyana Elections Commission (GECOM) to be submitted to President David Granger. At least ten persons have been shortlisted so far, Opposition Leader Bharrat Jagdeo has revealed.
Jagdeo told media operatives on Wednesday that the list will be further reduced to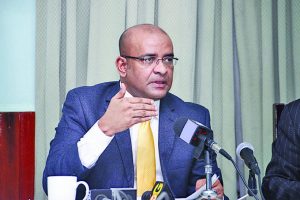 six before it is submitted, but hinted that there might be some difficulty finalising that list. According to him, one of the ten persons shortlisted has already indicated a reluctance to be nominated, because of fear of public humiliation.
"So I will now have to talk one-on-one with those people. So, over the course of the next few days, I will do that," Jagdeo said, explaining that he could not say definitively whether the list would be submitted to the President anytime soon, because he would need to give the proposed nominees some time to think things over.
"I have to go through the process, meet people and talk to them. Some of them say to me, 'We have to talk to our family'. So, I can't say, 'I need a word from you immediately,' or call you to a meeting and say, 'Will you agree to your name going on the list?' They would say, 'Can I get a few days to meet and talk with my family?' It's not a process you could almost short cut," he stated.
Asked whether names from the previous two lists could be included in the third one to be submitted to the President, Jagdeo confirmed that this would most likely not happen. "If I do, then that could be another excuse by the President to say, 'Look, he is being provocative'," the Opposition Leader added.
President Granger had rejected the second list of nominees on the basis that it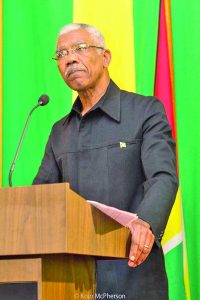 was "unacceptable" in accordance with Article 161 (2) of the Constitution. The first list submitted by the Opposition was also rejected on that very basis, but with no detailed reason given.
The six nominees for the second list were: retired Justice of Appeal BS Roy, retired Justice William Ramlall, Attorney and former Magistrate Oneidge Walrond-Allicock, Attorney Kashir Khan, Attorney Nadia Sagar, and Captain Gerald Gouveia.
Jagdeo had, in respect to the now rejected list of nominees, posited that "one (1) is a former Judge of the Court of Appeal of Guyana; one (1) is a former Judge of the High Court of Guyana; three (3) are Attorneys-at-law with over ten (10) years of good standing at the Guyana Bar; and one(1) is a former Magistrate, and therefore qualified to be Judges of a Court having unlimited jurisdiction in civil and criminal matters in Guyana, in accordance with the Constitution of Guyana; and one (1) is a former Captain of the Guyana Defence Force, a Pilot, and a Businessman and Entrepreneur."
The first list included names like: Governance and Conflict Resolution Specialist Lawrence Lachmansingh; Attorney-at-Law and Chartered Accountant Christopher Ram; businesswoman and former broadcast executive Rhyaan Shah; Retired Major General Norman Mc Lean; Business Executive Ramesh Dookhoo, and History Professor James Rose.
The President's interpretation adumbrated that a current or sitting judge or someone eligible to be a judge in Guyana or the Commonwealth Caribbean is preferred to be appointed as Chairman of the electoral body. The Opposition's contention, however, is that the Constitution clearly contemplates two categories of persons for the post: "Firstly, a High Court judge or an Appellate Court judge; a former High Court or Appellate Court judge, or a person qualified to be a High Court or an Appellate Court judge. Secondly, or (disjunctive), any "fit and proper" person.
The President subsequently amended his position to include his 'criteria' that the GECOM Chairman must not only be a Judge, but must not be an activist or member of any political party, among many other provisions.
Following the rejection of the second list, a consultation was held between Jagdeo, Minister of State Joseph Harmon and Minister of Natural Resources Raphael Trotman, former Attorney-General Anil Nandlall and PPP/C Parliamentarian Irfaan Ali.
It was agreed that in the event that the third list is rejected by the President, a high-level team would be established, representing the President and the Opposition Leader, to begin working instantaneously on exploring modalities to bring a resolution to the matter. However, there has been no word on this team.
GECOM has been without a Chairman since February 28, 2017, when Dr Steve Surujbally stepped down after 15 years at the helm. (Samuel Sukhnandan)