Ten young ladies from Guyana and further afield will take centre stage on August 21, 2022, at the National Cultural Centre (NCC) when they compete for the coveted title of Miss Guyana World 2022.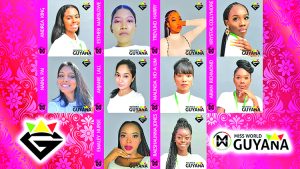 After a rigid screening process of 48 contestants from across the world, only 10 were given the green light to vie for the crown.
The 10 finalists are Andrea King, Anjanie Lall, Arian Richmond, Emaley Nurse, Ester Marslowe, Crystal Collymore, Malinda Ho-A-Lim, Naina Pai, Reshaunna Jones and Trevlind Harry.
The finalists will be sashed on August 1 at the Ramada Princess Hotel as regional ambassadors, as each contestant will be assigned to one of the ten administrative regions in Guyana.
"After a break due to the COVID-19 pandemic, Miss World Guyana is back and is extremely delighted to partner with some of Guyana's primer entities to bring what we describe as an evolution industry, Miss World Guyana 2022. Our national competition will see 10 empowered and diverse candidates inaugurated as regional ambassadors," Chairman of Miss Guyana World Franchise, Dave Lalltoo explained.
Further, it was announced at a press conference on Monday, that the Ramada Georgetown Princess Hotel will be the official home of Miss Guyana World 2022. A number of other sponsors were also revealed.
In addition, the official meet-and-greet location for the contestants will be at the Giftland Mall.
However, a host of events is already set in motion as the contestants are one step closer to the crown.
On August 5, there will be a head-to-head and debate challenge where the contestants will voice their passionate opinions.
August 6 will be the fitness competition followed by a meet-and-greet on July 7.
Zoning in on Coronation Day, on August 13 will be the talent segment of the pageant while on August 18, there will be a charity dinner where the contestants will have an opportunity to showcase what they hope to achieve through their charitable work.
The crown to be worn by the queen is estimated at US$8000 while the queen will walk away with $5.5 million in cash and prizes.
Some of the sponsors include, Fernandes Guyana Enterprise as the official diamond sponsor while Nand Persaud and Company Limited was announced as the official platinum sponsor.
Further, Windsor Estates is the official Gold Sponsor. Sports Gym is the official sports and fitness gym of the pageant. Professional Prints and Designs was announced as the official branding partner of this year's Miss World Guyana.
The Ministries of Culture, Youth and Sport; and Tourism, Industry and Commerce were also announced as sponsors of Miss Guyana World 2022 pageant.