A total of 102 young people from various parts of the country now possess basic tools and skills needed to effectively and confidently seek employment throughout Guyana and further afield.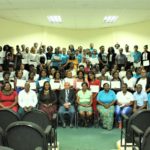 This is due to a successful three-week Job Readiness Skills Training programme spearheaded by the Department of Youth in partnership with SSYDR Incorporated – Specialists in Sustained Youth Development and Research.
The training was conducted with young people living in Regions Three, Four, Six and 10.
During a simple graduation ceremony held on Monday last at the Police Training Centre in Georgetown, the Minister of Social Cohesion, Dr George Norton said that the objective of the training was to build the capacity of young adults to enhance marketability within the job market.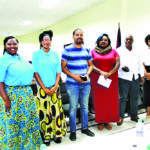 The sessions focused on a number of areas such as cover letter and cv writing, interview techniques and career coaching, etc.
Delivering the feature address, Minister Norton said that he was proud that so many young people opted to be part of the training which will enable them to effectively mitigate the tension and nerves that come from applying for a job, including attending an interview.
"These skills are transferable and are relevant in all aspects of your professional life; both as an employer and an employee."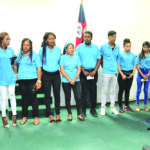 Dr Norton, who also holds responsibility for Culture, Youth and Sport, emphasised the importance of education and the need for young people to keep updating their skills, so as to remain relevant and competitive, especially as Guyana prepares itself for "an oil-rich future".
"Time is precious and you only have now to prepare yourself for a bright, booming tomorrow. Guyana is on the trajectory of economic development. Ensure you are equipped to benefit from the opportunities which will be presented," Minister Norton noted.
After collecting their certificates, participants of the programme expressed gratitude to Minister Norton and the Department of Youth for executing a timely and effective training programme.
Assistant Director of Youth, Leslyn Boyce noted that the Department of Youth is committed to ensuring the Job Readiness Skills Training reaches even more young people in all parts of Guyana.