…over 52,000 persons vaccinated – Health Minister
Over 52,000 persons across Guyana received their first dose of the COVID-19 vaccine as of this week – a noteworthy feat as Government seeks to inoculate the entire adult population.
Health Minister, Dr Frank Anthony said the health system has increased its daily immunisation statistics to an estimated 4500. This week, authorities were aiming to vaccinate 40,000 persons and have already surpassed this target.
"We have completed vaccination for 52,554 persons and so we are on target with what we have set out. I think that's good that people are coming out to get their vaccines. Most of the vaccines that we're using are two doses so those persons who have taken the Sinopharm vaccine, many of them are now being due."
While the interval between doses for the Sinopharm and Sputnik vaccines is four weeks, the AstraZeneca timeline is at least 12 weeks. For a person to be considered completely immunised, they have to wait seven days after the second dose is administered.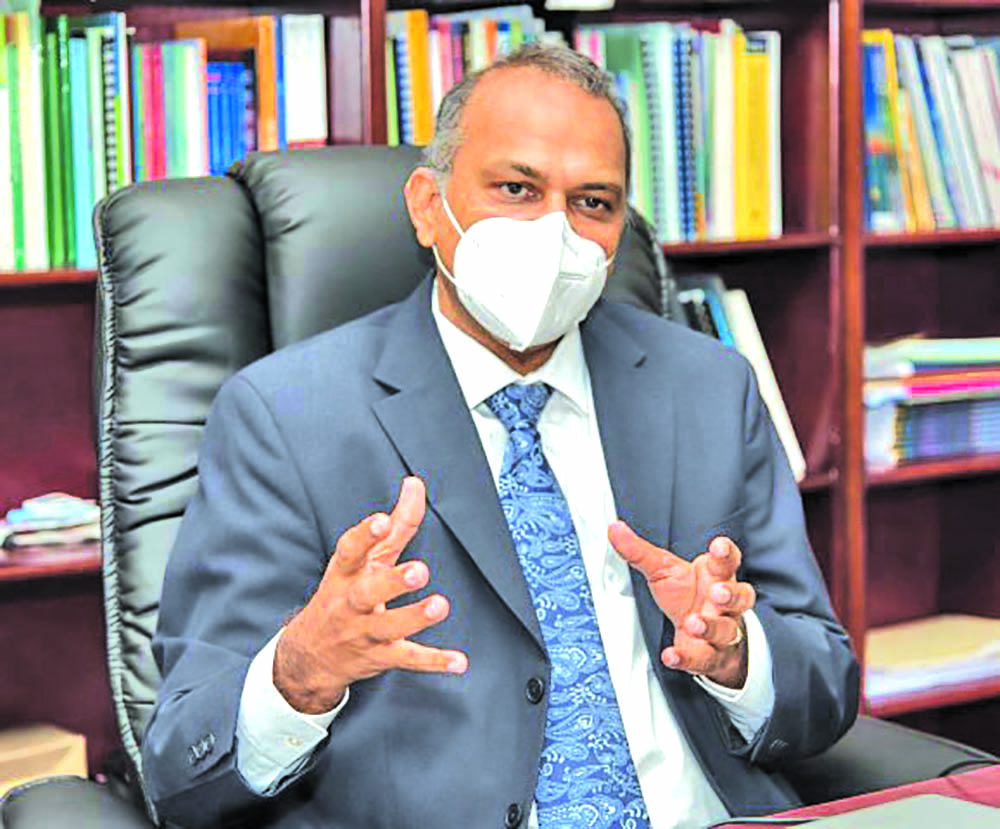 "We started to utilise the Sputnik vaccines. However, for the rollout of these vaccines, we had to retrain our staff because these vaccines have to be kept at a special temperature. We have to maintain what you might consider to be a very cold temperature, -18 to -20 (degrees Celsius). Once we thaw those vaccines out, you can't go and put them back into the fridge," he outlined.
If a person contracts the virus after taking the first dose, they have to recover completely before taking the second one. Next week, another batch of the Sinopharm vaccine will arrive – the second of several until 200,000 doses are delivered.
New cases
On Friday, a whopping 105 new cases were confirmed while deaths remained at 252. According to the Ministry's dashboard, the total number of confirmed cases in the country is now 10,958.
There are 1071 active cases: 13 in the designated Intensive Care Unit (ICU), 1059 in home isolation and 71 in institutional isolation. Nine persons are also in institutional quarantine. The data showed that 9576 patients have recovered from the life-threatening virus.
From the new cases, 36 were detected in Region Three (Essequibo Islands-West Demerara), 46 in Region Four, five in Region Five (Demerara-Mahaica), four in Region Six (East Berbice-Corentyne), four in Region Seven (Cuyuni-Mazaruni) and 10 in Region 10 (Upper Demerara-Berbice).
The cases in Regions One (Barima-Waini), Two (Pomeroon-Supenaam), Eight (Potaro-Siparuni) and Nine (Upper Takutu-Upper Essequibo) remain at 1028, 271, 247 and 449 respectively.
Ramadan measures
Ramadan, a holy month of prayers for the Muslim community, starts on April 13 and the National COVID-19 Task Force has outlined measures to be enforced throughout the religious season.
The guidelines were finalised after consultation with the Muslim community of Guyana. An advisory from the secretariat noted that mosques can open for the daily prayer sessions but only at 40 per cent capacity. Where available, outdoor spaces should be utilised along with adequate social distancing.
Persons are asked to sanitise, wear a mask and ensure four feet distancing throughout prayer services. A suggestion was made for persons to walk with their prayer mats. The Task Force added that the elderly, pregnant woman, the sick and children under the age of 11 should not attend masjid during Ramadan.
Personal iftar arrangements are allowed as long as there is adequate spacing. However, iftars on a congregational level is prohibited. Iftar is the first meal in the evening after fasting for the entire day.
Meanwhile, the Esha and Taraaweeh prayers should be completed by 21:30h. To curtail overcrowding for the Jummah and Eid-ul-Fitr prayers, the secretariat said multiple prayers can be conducted at the same venue as long as it is sanitised. Imams and executive members of masjids are responsible for enforcing the COVID-19 measures.
The Task Force will be conducting COVICURB inspections nationwide, to ensure compliance with these guidelines.