A total of 14 Guyanese will soon embark on their journey to achieving a Master's Degree after being awarded a Chevening Scholarship Programme offered at a number of universities throughout the United Kingdom.
British High Commissioner to Guyana, Gregory Quinn on Thursday evening bid farewell to this year's awardees, urging them to make the best of their journey as Chevening scholars.
While highlighting that this scholarship is testimony to her Majesty's commitment to education and continuous investment in Guyana, Quinn outlined the nature of the programme.
In doing so he pointed out that the scholars will be pursuing their degrees in a wide variety of areas, which include public policy, renewable energy, energy studies, global health, petroleum and energy economics, anthropology and environment, transport planning, innovation management, environmental engineering, development finance, agriculture and communications.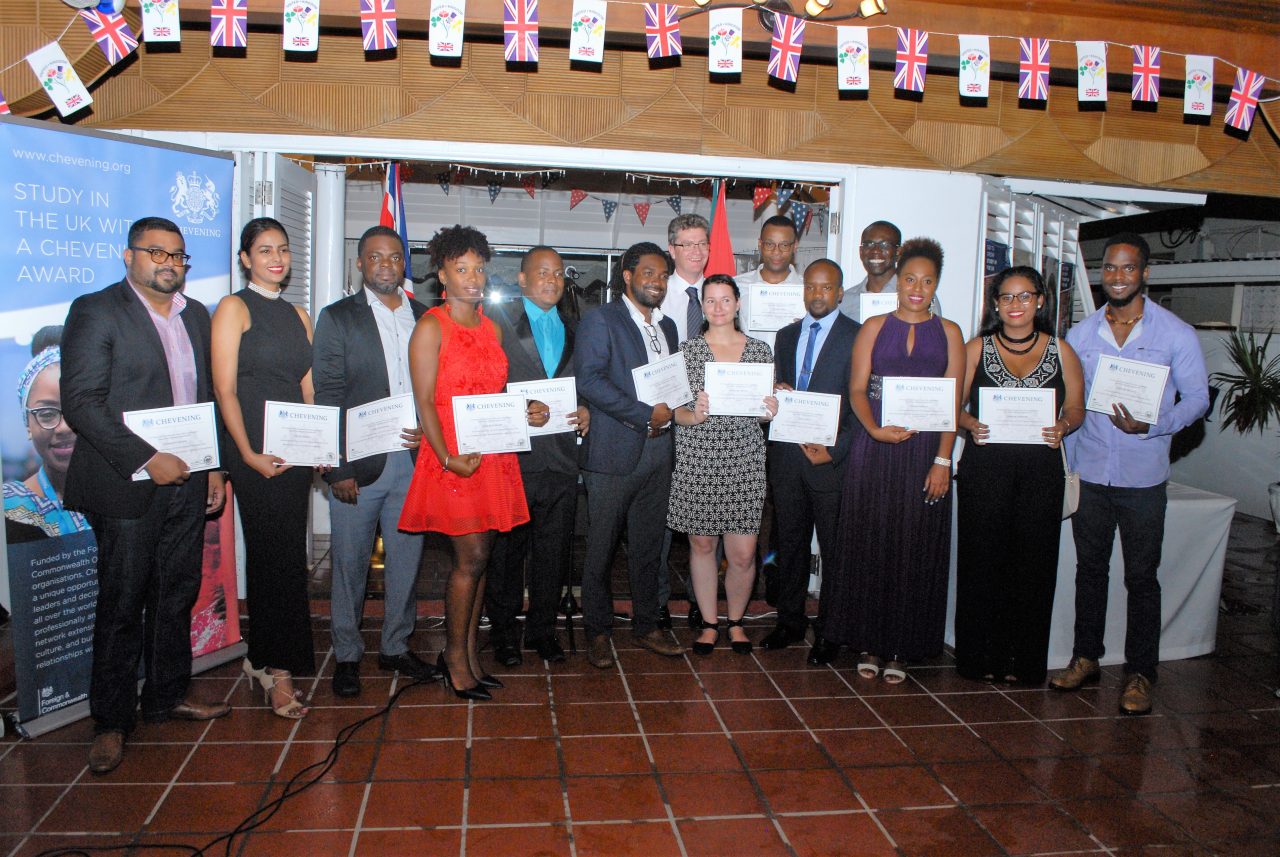 The UK diplomat went on to say that the Chevening programme is not only beneficial to the awardees but will have a positive impact on the country as well.
"After these scholars have been awarded their degrees, we expect them to come back and work for the benefit of Guyana; that's what we are spending our money on," relayed the British High Commissioner, who continued by saying, "That is the purpose of Chevening, to give people the skills and knowledge needed to develop their own country."
Echoing the sentiments of the High Commissioner was a past recipient of the UK Government scholarship, Chuizka Harilal, who congratulated the 15 for being the recipients of this prestigious award.
In sharing her experience as a Chevening scholar, the alumnus encouraged the 2017 awardees to make the best of the opportunity.
Cashing in on the Chevening scholarship for 2017 are Kayla Defreitas, Sanasha Perreira, Jason Fraser, Rovin Sukhraj, Tiffany Daniels, Darcy Waldron, Michael Fraser, Lidon Charles, Gopnauth Gossai, Tricia Teekah, Joel Joseph, Jacqueline Major, Dillon Clarke and Jonathan Melville.
Chevening is a renowned global scholarship programme that offers future leaders the unique opportunity to study in the UK, by affording students a fully-funded one year developmental programme.
The Chevening scholarships awarded to Guyanese students for the year 2017 carries a value of approximately $102 million.
This is the first time a total of 15 Guyanese were selected to participate in the programme, with the number of local scholars continuously increasing over the years.
The British High Commission is currently accepting applications for the 2018 Chevening Scholarship Programme, and is inviting Guyanese to apply while the process remains open until November 7.