More than one hundred (100) Guyanese businesses have signed up with ExxonMobil's local Business Centre, to access opportunities in the oil and gas industry.
Exxon's Public and Government Director, Kimberly Brasington, has said the company has compiled a database of local businesses that are interested in opportunities available in the oil and gas industry.
"Back in January, in the interim before we could get this (Centre) going, we launched a supplier database registration portal, and so we already have 140 Guyanese companies registered in our database," Brasington was quoted as saying in an interview with GINA.
This database is currently being transferred to the local Business Centre which was officially opened last week.  The Business Centre will, among other things, provide key linkages to local businesses for joint-venture opportunities in the industry.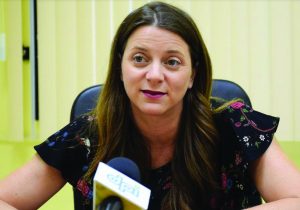 "It's really a robust research centre of Guyanese companies that third parties could come in to form potential (joint ventures) with," Brasington explained.
The Business Centre is already providing information on upcoming tenders and contract bids; information critical to creating these joint venture opportunities.