…Pres Ali calls for responsibility, restraint in social media discussions, respect for grieving families
…alternative housing found for displaced students
The first victim of the horrific Mahdia fire was on Wednesday laid to rest in a highly emotional send-off in her home village – Karisparu, Region Eight (Potaro-Siparuni).
Sabrina John, who was one of the 19 victims of the Mahdia dorm fire, was buried in the presence of her family and members of Karisparu Village.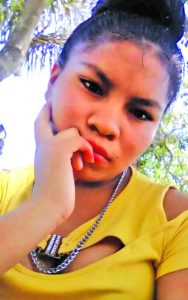 Additionally, Education Minister Priya Manickchand and Public Works Minister Juan Edghill attended the funeral service. The two Government officials offered support and comfort to the family.
President Dr Irfaan Ali has already indicated that the families of both those who lost their lives and those who survived Sunday's tragedy will be supported with all that they need emotionally, financially, and psychosocially. He reassured that the families' desires and wishes will be respected and facilitated, and that commitment is being honoured.
The Head of State and Members of his Cabinet, along with Members of the Diplomatic Community, on Wednesday flew into Mahdia, where they joined residents there for a flower-laying ceremony at the site of the Mahdia Secondary School's dormitory, where 18 females between the ages of 12 and 17, and one five-year-old boy – the son of the dorm parents – lost their lives in Sunday's fire.
Another flower-laying ceremony was also held at the St. George's Cathedral in Georgetown, where members of the public stopped to pay homage to the 19 victims.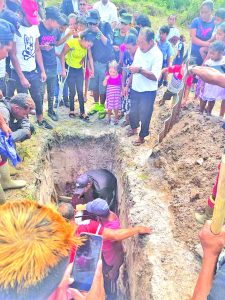 Meanwhile, President Ali on Wednesday called on Guyanese to be more responsible in how they discuss the deadly Mahdia Secondary School dormitory fire that took the lives of 19 young people on social media. The Head of State is also urging persons to exercise responsibility and restraint in their social media discussions of the incident.
"I'm urging all Guyanese to desist from self-analysis, from reviewing timeline stories of all these girls, and from analyzing the life stories of all these girls. There's a time and place for everything. Let us focus our use of social media on motivational quotes, on prayers, on inspirational songs, on uplifting messages, and not on opportunities to theorise," he posited.
President Ali went on to say, "Yes, we're a very opinionated society. We all have our opinions on what is right and what is wrong, and what should be done and what should not be done. There's a time and place for everything. But as I've said before, myself and the Government, as far as possible, we are going to fulfill the wishes and desires of these children and their families. It's the least we can do. And everything that we are doing, we're doing in consultation with these families and the children. We are putting their wishes and desires, as far as possible, in the front seat."
A total of 57 female students were being housed in the Mahdia dormitory – a one-flat concrete building measuring about 100 feet by 40 feet, with several windows, all grilled, and five doors – when the fire broke out.
Thus far, the Guyana Police Force has confirmed that the deadly fire was purposely set by an allegedly angry student, who retaliated after her mobile phone was confiscated by the dorm's mother and a teacher.
According to the Guyana Fire Service, 14 youths died at the scene of the fire, while four died at Mahdia District Hospital and one succumbed while being air-dashed to Georgetown for treatment.
Apart from the 18 female students who were killed in the fire, several others were injured – some of whom are still in a critical condition. Six of these injured students have been admitted at the Georgetown Public Hospital. Two were intubated and are receiving ventilation support in the Intensive Care Unit (ICU), and one was rushed to the Operating Theatre (OT) to undergo limb saving surgery. As of Tuesday, the count at the GPHC had increased to nine.
The other three children, who were in less critical condition, received assistance in the hospital's Paediatric High Dependency Unit (HDU). Additionally, seven other survivors have been treated and discharged from hospital. They are recovering, with Government offering continued support to ensure their holistic recovery.
Meanwhile, Government has already secured an alternative housing facility for the other female students who survived the fire with little to no physical injuries and are currently in Mahdia. This is according to Education Minister Priya Manickchand during a recent telephone interview with Guyana Times.
According to Minister Manickchand, some of these surviving children have either returned to their homes – with many coming from the villages of Karisparu, El Paso, Micobie and Chenapao – or are currently at this new location in Mahdia that the Government organised.
The children are also receiving mental health support to deal with the aftermath of this tragedy.
"There's a very strong mental health team that went in there that is full of grief counsellors, psychiatrists [and] psychologists," Manickchand said.
This comes after Human Services and Social Security Minister Dr. Vindhya Persaud, during a press conference on Monday, shared that efforts to mobilise a mental health support team to aid affected children and parents were underway.
According to Minister Persaud, this team was to include members of the Health Ministry's Mental Health Unit, Georgetown Public Health Corporation (GPHC) Psychiatry/Psychology Unit, and the Human Services and Social Security Ministry's Child Care and Protection Agency.(G8)