…victim died from shock and haemorrhage due to multiple stab wounds – autopsy
As investigations continue into the brutal murder of 48-year-old Daniele Charles, whose naked body was found at Experiment New Housing Scheme, West Coast Berbice, on Sunday, the Police have confirmed that two men were arrested and are in custody.
It was reported that the Police received reports that the body of a woman was seen in a clump of bushes on a vacant plot of land at Experiment New Housing Scheme.
Upon arriving at the scene, Police found the woman's naked body lying face up. A multi-coloured top with bloodstains, a pair of three-quarter denim pants, a bra and an underwear were found next to the body. The pants, bra and underwear were cut open, the Police said.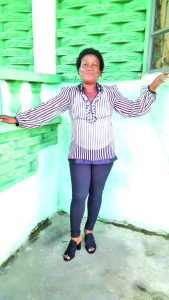 A used condom and wrapper were found next to the woman's feet and wrapped-up tissues were found between the deceased legs.
Upon further inspection, a total of 10 stab wounds were seen on the woman's body – six to the abdomen, one to the left side breast, two to the throat, and one to the centre of the chest.
Police say the woman is suspected to have been killed between 03:23h and 12:10h on Sunday.
Charles was reportedly seen consuming alcohol at a popular bar at Bath Settlement, WCB, with her relatives and a male and female friend. At about 20:00h on Saturday evening, the relatives left the bar, leaving Charles in the company of her friends.
Charles' son, Yeukini Joseph, told investigators that at about 03:23h on Sunday morning, his mother called him and enquired if he was okay. In response, he told her that he was fine and in turn asked her if she was okay, but the phone got disconnected.
He attempted to call her back, but the phone was turned off. The young man stated that during the telephone call, the background was quiet, which meant his mother had already left the bar.
Meanwhile, a post-mortem was performed on Charles' body on Monday by Dr V Brijmohan at Bailey/Michael Funeral Home, No 4 Village, WCB, which gave the cause of death as shock and haemorrhage due to multiple stab wounds.
The body was handed over to relatives for burial.