Two men, a 36-year-old and a 30-year-old, were on Monday taken into custody following the discovery of a quantity of ganja and a bulletproof vest among other items during a raid at Meadow Bank, Georgetown.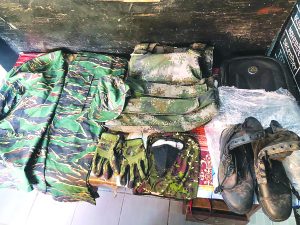 Police stated that on the day in question at about 10:00h, Police ranks were conducting patrol through a street in Meadow Bank when they observed two males carrying a blue plastic barrel onto an empty plot of land. Upon seeing the ranks, the two men left the barrel in the yard and ran out empty-handed.
Based on reports received, the two men were apprehended and taken to the empty plot of land where they located the barrel under a black covering.
As such, the ranks opened the barrel in the presence of the two men. Inside was a crocus bag which contained five brown bulky parcels of the cannabis. In addition, there was a multi-coloured bag containing one camouflage hat, shirt, pants, mask, gloves, a bulletproof vest, and one pair of black boots.
At that time, the men were told of the offence and they denied having knowledge of the content of the barrel.
The two males, along with the narcotics and other items, were taken to the Ruimveldt Police Station, where the ganja was weighed in their presence and amounted to 18 pounds. Police are continuing their investigations.