Thirty-one-year-old O'Neil Lampkin of Sheet Anchor, East Canje, Berbice, was on Friday arrested after he was found with a large quantity of ganja in his possession.
Based on reports received, CANU officers acting on information went to Sheet Anchor, East Canje, where they intercepted Lampkin, who was under the Canje bridge with a small quantity of cannabis in his possession.
However, upon his arrest, he was taken to his home where the officers conducted a search on the property and its surrounding. During the operation, two large parcels containing a quantity of ganja were discovered in the bushes around his property.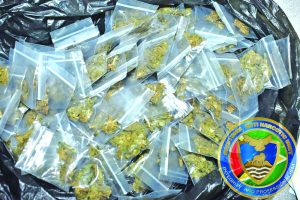 The suspect along with the narcotics were taken to CANU Headquarters where the ganja was weighed and amounted to 47.518 kg. He was told of offence and arrested. Investigations are continuing.
Meanwhile, on the same day, CANU ranks conducted another operation at Young and Restless Street, De Kinderen, West Coast Demerara (WCD), where they intercepted a man carrying a haversack.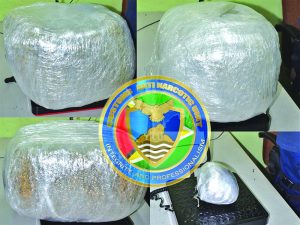 A subsequent search of the haversack revealed several transparent Ziplock bags containing ganja. The suspect, Errol Latchoo, 19, of West Meten-Meer-Zorg, WCD, was arrested and taken to CANU Headquarters where the narcotics were weighed and amounted to 118 grams.
He too was arrested pending further investigation and charges.