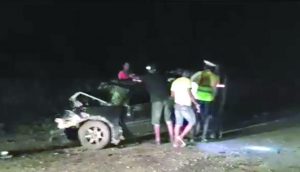 Two persons are now dead and at least three others seriously injured following a two-vehicle smash up on the Linden- Soesdyke Highway on Saturday evening.
Reports are the accident occurred at about 20:00h at the One Mile turn on the highway and involved a motorcar and a SUV.
Guyana Times understands that the motorcar, HC 2554, was travelling in the eastern direction heading up the highway, while the SUV was coming from the opposite direction when the two vehicles crashed head on.
At the time, the hire car, which operates at the Soesdyke junction to transport residents to communities on the highway, had passengers in the vehicle. Upon colliding with the other vehicle, the car reportedly spun around before coming to a halt. A woman, who was in the passenger seat of the car, went flying into the front windscreen. She reportedly died on the scene. Her identity was not immediately known. The driver of the SUV also died, while the driver of the hire car is said to be in a critical condition.
Meanwhile, it was reported that the occupants in the SUV had just left the creek and that the driver was allegedly drunk. It is unclear how many persons were in the vehicle and their condition.
The injured persons were rushed to the Diamond Diagnostic Centre, where the woman was pronounced dead on arrival. The others were treated and some transferred to the Georgetown Public Hospital Corporation (GPHC) for further treatment. The driver died while receiving medical attention at the GPHC.