…suspected cyanide found in vehicle
Two Guyanese men were found dead shortly after midnight on Friday in the parking lot of the Marriott Hotel in Kingston, Georgetown.
Dead are Paishnarine Hansraj called 'Richie', a 25-year-old singer/music producer from Hague Backdam, West Coast Demerara, and 34-year-old American Airlines flight attendant, Justin Teixeira. It is suspected that they died by suicide.
Their motionless bodies were discovered sometime around 00:16h on Saturday by a staff of the Marriott Hotel, where Teixeira was staying as a guest.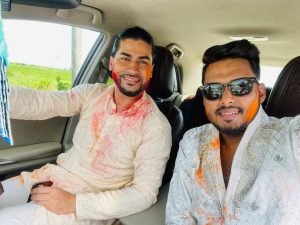 Crime Chief Wendell Blanhum told Guyana Times that the police are awaiting a post-mortem examination (PME) to confirm the cause of death of both men.
Initially, investigators had suspected a drug overdose after a plastic container with a white hard substance was found in the back seat of the vehicle. However, this has since been ruled out after several narcotics tests were conducted on Saturday.
Officials from the Guyana Forensic Laboratory informed detectives that they suspect the substance to be sodium cyanide – a chemical that is lethal to humans even in a small quantity.
But without local capacity to confirm these suspicions, samples will have to be sent to an overseas laboratory for further testing.
Based on further information reaching Guyana Times, Hansraj was frothing at his mouth when they were found.
According to police reports, Teixeira had reportedly suffered a seizure moments before midnight, and his relatives were alerted.
A 28-year-old employee of the Marriot Hotel reported that they received a phone call from Teixeira's mother at about 23:30h, informing them that the flight attendant was having a seizure and asked if someone can check on him.
Another employee was sent to Teixeira's room on the sixth floor but it was empty. The hotel staff then went to Teixeira's vehicle – a black Vezel motorcar (PAC 2607) – in the parking lot, and the gruesome discovery was made.
"…he observed Teixeira sitting in the driver's seat, and all the windows of the vehicle were half-way down. The employee said he opened the front passenger door and discovered Paishnarine Hansraj… sitting in a crunch-like position. Both Teixeira and Hansraj appeared to be motionless," the police report detailed.
Both the Police via 911 and ambulance with an EMT were summoned to the scene, where the two men were pronounced dead by a doctor.
The police said no marks of violence were seen on the exposed parts of the two bodies, which were escorted to the Memorial Garden Funeral Home awaiting the PME.
Nevertheless, investigations, including the review of CCTV footage at the hotel, are ongoing.
Meanwhile, persons close to the men believe this was a premeditated act. In fact, Hansraj made a suspicious statement in his last social media post about an hour before their bodies were found. He said, "I hope the world find peace today I love you all!" This post was made at 23:10h on Friday.