Following a visit to the recently commissioned Mandela Avenue-to-Eccles four-lane thoroughfare and its surrounding environment, the hierarchy of the Guyana Police Force (GPF) has confirmed that a Police outpost would be constructed at either end of the highway.
This was confirmed by Deputy Commissioner, 'Operations', (ag) Ravindradat Budhram, along with Commander of Region 4'A', Assistant Commissioner Simon McBean, during a visit to the area on Friday. While there, they identified potential areas for the outposts.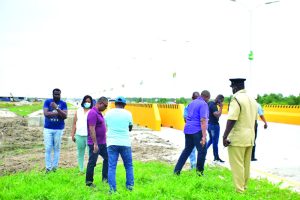 Budhram explained that the Police outposts, once in place, are expected to aid and further enhance traffic control and crime detection in both Divisions (4A and 4B).
It is expected that one of the Police outposts will be placed about 400 metres away from the Mandela Avenue Roundabout (eastern lane heading to Eccles), while the other will be placed the same distance away from the turn that leads to the highway from Eccles (western lane heading to Georgetown).
The new road link, which was commissioned by President Dr. Mohamed Irfaan Ali on Thursday evening, is expected to relieve the traffic congestion that affects commuters from the eastern and western banks of the Demerara river.
This confirmation by the GPF comes just after the much-anticipated Mandela-to-Eccles four-lane Highway was commissioned on Thursday evening.
The Mandela-to-Eccles highway was conceptualised by Dr Ali during his stint as Housing and Water Minister under the previous People's Progressive Party/Civic (PPP/C) Government. The $2.6 billion four-lane road runs from Mandela Avenue all the way to Eccles, EBD, and works are currently ongoing on a second phase to further extend the road to Great Diamond, EBD.
The road features an asphaltic-and-concrete round-about, with reinforced concrete sidewalks. The four-lane roadway runs for 2.8 kilometres and includes parking lanes, 12 bridges, stones on the median, and 214 solar-powered lamps, among other amenities.
Accompanying Budhram and McBean on the visit were Officer-in-Charge of the Construction Department, Assistant Superintendent Singh; Assistant Superintendent Nedd; W/Chief Inspector Debbie Handy; Inspector Boyce and Inspector Henry, along with other ranks.