A taxi driver is now counting his losses after four armed men posing as customers robbed him of his valuables and then hijacked his vehicle on Friday night.
The driver, who hails from La Parfaite Harmonie, West Bank Demerara (WBD), is employed at the Double D Taxi Service, Eccles, East Bank Demerara (EBD).
Reports are that shortly before 20:00h on Friday, he was sitting in the car, PPP 2303, when the quartet approached him, requesting that he transport them to Georgetown.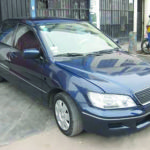 The four men entered the car and told him that they needed to make a "quick stop" at Shirley Field Ridley Square, Georgetown.
However, when the taxi driver arrived at that location, the men informed him that they wanted to be dropped off at Vryheid's Lust village, East Coast Demerara (ECD), rather than the previous location they had initially indicated.
They supplied the driver, who was not familiar with the streets in Vryheid's Lust, with directions which led the vehicle to a dead end.
It was then that the taxi driver realised that something was amiss but by then it was too late.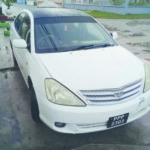 One of the four suspects quickly placed a penknife to his throat while another, who was seated behind the driver, placed another pen knife to the man's throat.
The men snatched his cellular phone and relieved him of an undisclosed amount of cash. During the ordeal, the driver managed to open the car door and rush out of the vehicle to escape. He then hid in a nearby clump of bushes.
This publication understands that the perpetrators did not attempt to pursue him but rather quickly sped away with the car.
This newspaper was told that after realising that the four men had left, the taxi driver walked through the desolate area until he located persons and told them what had transpired.
With the help of villagers, he then made contact with the Police and filed a report about the robbery and hijacking.
Police Commander of Region Four (Demerara-Mahaica) Subdivision C (East Coast Demerara), Assistant Police Commissioner Royston Andries-Junor, on Saturday confirmed that an investigation into the incident is currently ongoing.
He stated that ranks will be reviewing Close Circuit Television (CCTV) footage along the ECD corridor to determine which route the bandits used to escape.
2nd hijacking
Meanwhile, a Mitsubishi Lancer Cedia, PLL 8907, which was hijacked by two gunmen along with two other accomplices on Wednesday night, was discovered parked under a tree at Lusignan, East Coast Demerara (ECD).
According to the Commander, the stolen vehicle was abandoned at the area and persons who noticed its prolonged presence notified the Police.
He explained that the vehicle was hijacked at Vryheid's Lust village, ECD.
It is believed that the men also committed another hijacking in Vryheid's Lust on Friday night and are familiar with that village.
However, Commander Andries-Junor noted that systems are presently being put in place in and around Vryheid's Lust to prevent such crimes from recurring.
Meanwhile, a relative of the owner of motorcar PLL 8907 told this publication on Saturday morning that this vehicle was also used as a taxi.
He stated that the driver (his cousin) operates at a taxi service located in Industry, ECD and that on Wednesday night, two men visited the base to hire a car.
They approached the man to have him transport them along the ECD while notifying him that they had two friends waiting along the Railway Embankment area to join the same vehicle.
After collecting the other men, the quartet then requested the taxi driver to head to the Vryheid's Lust village. While navigating his way through the streets, one of the men whipped out a firearm and pointed the weapon to the driver's head.
Another bandit then pulled out another firearm and the quartet ordered the man to keep driving. Upon arriving at an isolated area in the village, he was told to exit the vehicle. He complied and the men drove off with the car. (Kristen Macklingam)