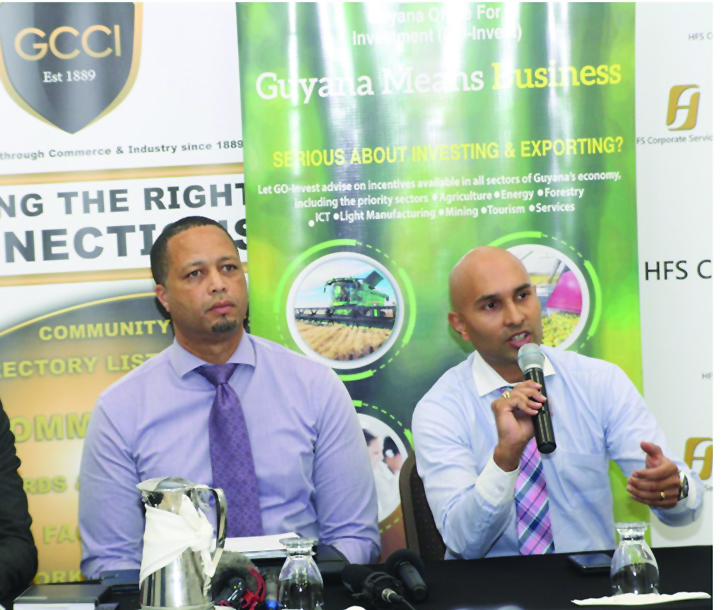 Some 20 local businesses will be attending the Offshore Technology Conference (OTC) 2019 which is said to be the largest of its kind.
The Guyana booths will showcase what the country has to offer and create opportunities for business and networking. OTC 2019 will be held from May 6-9, in Houston, Texas, under the theme "OTC: The Next 50 Years."
Guyana's participation is a collaborative effort between the Georgetown Chamber of Commerce representing the business community and the Guyana Office for investment (GO-Invest) representing Government's commitment to the business community.
Chief Executive Officer of GO-Invest, Owen Verwey told media operatives on Thursday at a press conference that Guyana will form part of more than 60,000 that will be in attendance and it will create opportunities for business networking and education sharing among Guyana and other countries.
The goal of the mission is to foster relations with other oil producing companies to benefit the country and its economy. He said the aim is to allow members of the Guyana delegation to network with other participants, as well as to gather relevant information on the offshore oil and gas sector.
"We will have two booths at the Conference and we will be looking into specific activities that are Guyana-focused and that will also complement OTC activity that is Guyana-focused, with emphasis on the country's upcoming oil and gas industry," Verwey explained.
There will also be a Guyana night of information sharing and networking in collaboration with a major partner ExxonMobil.
President of the Georgetown Chamber of Commerce, Nicholas Boyer, who also spoke at Thursday's press conference said Guyana's participation in such a conference will ensure that Guyana has "A booth, a presence, and a face in Texas."
Boyer also gave recognition to the US Embassy; a partner stating that the embassy is excited about the interest indicated in Guyana's market from abroad. According to Boyer, the aim of participation in this conference is to foster education, connection and networking as well as to promote local content. He added that Guyana needs more education in experience, equipment and oil and gas resources, hence the participation is necessary.
Some of the businesses that will be in attendance include Roraima Airways, Hughes Fields and Stoby, Ramps Logistics, GTT, and Guyana National Shipping Corporation, Sterling and Japarts.
The Offshore Technology Conference was founded in 1969, and forms a series of conferences and exhibitions focused on the exchanging technical knowledge relevant to the development of offshore energy resources, primarily oil and natural gas.