By Clifton Ross
President of the Berbice Volleyball Association (BVA) and National Coach Levi Nedd credited 2017 as a year of accomplishment for the club, adding that 2018 will see bigger and better things unraveling in the sport.
"The BVA has concluded all its activities for the year, coupled with the fact that all the overseas tours were successful in which the BVA players outnumbered the rest," said Nedd during a recent interview with Guyana Times Sport.
Nedd gave valuable insight into the association's current year and plans for the new one. "Our youth development in both the male and female categories in Berbice have been doing well and next year we will focus more on them," said the coach who hailed the BVA for churning out a large number of national players compared to the other counties.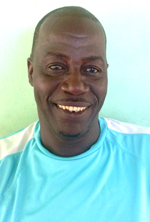 Nedd said one downfall heading into the new-year was the migration of some of the top senior players who are now relocated overseas. The Coach pointed out that more emphasis will now be placed on the younger crop of volleyball players, some of which have already been identified.
It was also revealed that French Guiana, Brazil and Trinidad are likely destination in 2018 as the BVA looks to promote more overseas competitions to help sharpen their players. Guyana is currently the reigning Inter-Guiana Games (IGG) champs, having won the tournament two years in a row.
Nedd stated that the pressure to maintain such a record comes with tons of training and commitment which in the end seems to be paying off for the association with their weekly sessions.
Nedd, a former player and current National Head Coach confirmed that following next month's AGM, once he's retained as President of the Association, more strategies will be implemented to ensure the sport reaches the schools.
A plan to integrate volleyball with schools for 2018 is among the big plans Nedd outlined. He feels that with more participation from schools will help to create a wider base for the sport to breed, not just in Berbice but across Guyana.
In closing the Coach said that despite the few challenges encountered, 2017 was a brilliant year for volleyball across the board, adding that he wants more input from the Guyana Volleyball Federation (GVF) with regards to the training and preserving of its local officials.