The final match in the 2022 Essequibo Softball Cricket League (ESCL) Over-40, 20-overs competition is slated for Sunday, May 22, at the Affiance Number 1 ground on the Essequibo Coast in Region Two, Pomeroon-Supenaam.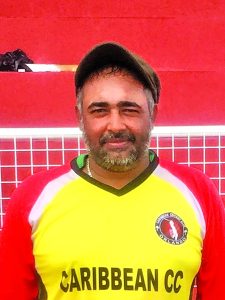 That match involves the Caribbean Cricket Club clashing with the Sunrisers Masters to determine supremacy, but preceding that championship game is the third-place playoff between Ravens Sports Club and Queenstown Tigers.
In the semi-finals matches played last Sunday at the same venue, Caribbean Cricket Club defeated Queenstown Tigers by ten wickets, while Sunrisers Masters got the better of Ravens Sports Club by seven wickets.
Queenstown Tigers were bowled out for a modest 58 in the 13th over, while Caribbean Cricket Club responded emphatically with 60-0 off four overs. Seasoned batsman Patrick Rooplall led the way with 24, and former senior Essequibo Inter-County player Prashad Mahadeo made 22.
In Queenstown Tigers' innings, only Motielall Deepnarine's 20 made any impression, as Yaseer Mohammed grabbed five wickets for six runs from four incisive overs. He was supported by Jamuna Persaud and Eshwar Singh with 2-10 and 2-17 respectively.
In the other fixture, Ravens reached a competitive 190-9 at the end of their 20 overs, while Sunrisers Masters surpassed the target with three overs to spare. Gopaul Deen hit a top-score of 73 for the victorious team, while former Essequibo batsman Ravi Beharry struck 68. Jermain Trotman claimed two wickets for 13 runs off three overs.
When Ravens Sports Club batted, the consistent Sugrim Ahiram slammed 75, while veteran softball player Ramesh Narine scored 37.
Shisankar Bissoon took three wickets for 23 runs off three overs, while assistance came from Seon Sankar, who finished with 2-28 (04).
At the end of this final game, the winning side would collect $100,000 and a trophy, and the runners-up would collect $50,000 and a trophy.