–
patrons to win pennyweight of gold each night
Xtreme Clean Landscaping launched a Five-a-side Futsal tournament, "Gold Rush", at the Windjammer International Hotel on Thursday with the supported by the National Sports Commission (NSC).
The tournament features 24 teams from various parts of Guyana including the likes of top sides such as Sparta Boss, Kitty, Back Circle, Front Road, Agricola and Tigerbay.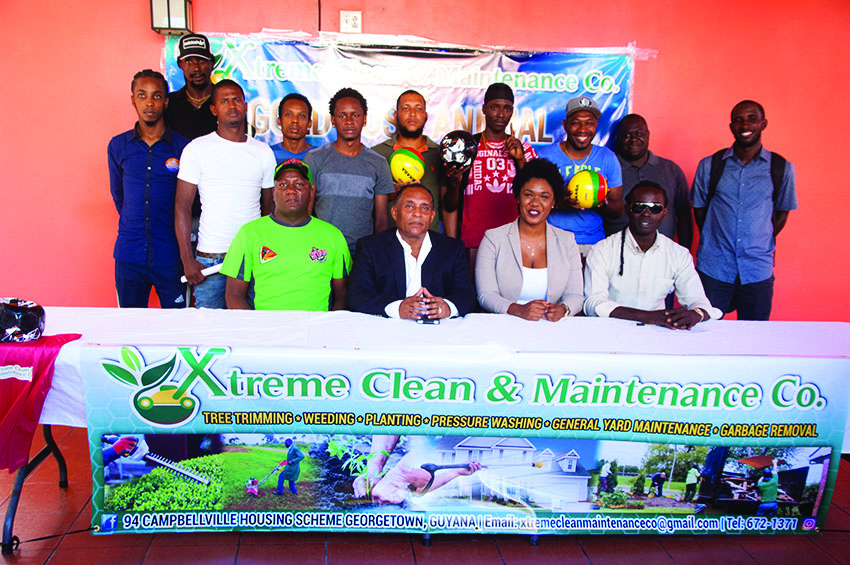 Speaking at the launch, Chairman of the NSC, Ivan Persaud congratulated the Managing Director of Xtreme Clean, Shanai Gomes on the successful launch of her business adding that while Guyana has already seen the rise in Sports Tourism, it is "refreshing" to see Sports connected with entrepreneurship.
He lauded the company for taking up its "social" responsibilities and giving back to the communities through sports. Persaud maintained that it is important for Guyana to keep young people gainfully occupied especially through sports.
Meanwhile, Gomes revealed that the decision to launch the company through a football tournament came because one of the founders of the company has a love for football and grew up playing Futsal in the Hadfield street area.
The tournament will begin on May 26 and will continue on the 27th and the 28th with finals set for June 4 at the National Gymnasium. It will be played on a round-robin basis with each team that wins progressing to the next round, a defeat means automatic elimination.
First prize is $500,000 while second prize is $200,000. Fans will have a chance to win a pennyweight of gold on each night of the tournament as well as cash prizes. Entry to games cost $300 on the opening nights while entry to the finals is $1000.
The opening fixtures are as follows; May 26th -Agricola vs BV-A-19:00rs, Festival City vs Albouystown-19:30hrs, Sophia vs Dave and Celina All-Stars-20:00hrs, Showstoppers vs Tigerbay-20:30hrs, Broad Street vs West Back Road-21:00hrs and Sparta Boss vs Kitty-21:30hrs.
Action continues on May 27th; Tucville vs Melanie-19:00hrs, Plaisance vs Alexander Village-19:30hrs, Bent Street vs Campbellville-20:00hrs, North East La Penitence vs Future Stars-20:30hrs, Gold is Money vs North Ruimveldt-21:00hrs and Back Circle vs Globe Yard-21:30hrs.