Twenty five youths in Bartica, Region Seven (Cuyuni-Mazaruni) on Friday graduated from the Ministry of Social Protection's Board of Industrial Training (BIT),
The BIT training programme is aimed at empowering youths with the skills necessary to meet the future needs of local industries. During the six months session, the youths were trained specifically in Heavy Duty Equipment Operation.
Present at the graduation ceremony were Minister within the Social Protection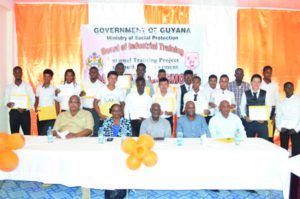 Ministry Keith Scott, Regional Chairman Gordon Bradford, Deputy Mayor of Bartica Kamala Persaud, Assistant Director of the National Community Development Councils (NCDC) Donald Ainsworth, Permanent Secretary to the Social Protection Ministry Lorene Baird and Heavy Duty Equipment Operator Officer Earl Pestano.
Minister Scott said that the graduation of the youths indicates that Bartica will no longer have to look to Georgetown for handouts. The Minister said that the youths are now equipped with the skills needed to further push the developmental process in the township.
Minister Scott also encouraged the youths to form cooperatives as it is the best way to rapidly develop the town.
Deputy Mayor Kamala Persaud lauded the graduands for completing the training programme. However she cautioned them stating that, "going forward I hope that you will constantly tell yourselves that the sky is not the limit your mind is, whatever you put your mind to you can achieve it and today is a testimony to it."
The Deputy Mayor urged the graduands not to take the opportunities they receive for granted. NDCD Assistant Director Donald Ainsworth expressed similar sentiments as Deputy Mayor Persaud and Minister Scott. He urged the youths to use the skills they have acquired to foster development in Bartica. "There is so much to be done to develop Bartica that your skill would be needed right here and I hope that you would commit yourself to enhance life here in Bartica."
The graduation of 25 youths makes it the third batch to graduate from the BIT training programme in Bartica. While the course only saw males graduating, the Heavy Duty Equipment Operator Officer Earl Pestano indicated that already five females have registered for the programme which recommences in April, 2017.