…says PPP/C continues to uplift the poor & working class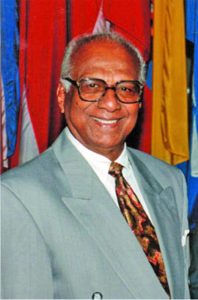 On the occasion of the 26th death anniversary of former President and People's Progressive Party (PPP) founder, Dr. Cheddi Jagan, President Dr. Irfaan Ali paid tribute to the late leader, and described him as "a man ahead of his time."
During a ceremony held at the Cheddi Jagan Research Center, President Ali hailed the former President as one of the greatest political figures in the western hemisphere. He said Dr Jagan's legacy encompasses his contributions to Guyana's development and to the poor and working class.
"The ink of history will forever be fresh with his ideas. Talk is cheap. Development of ideas is not the putting together of words. An idea is something that is transformative, something that separates ignorance from knowledge. Something of value. Something that uplifts," President Ali said.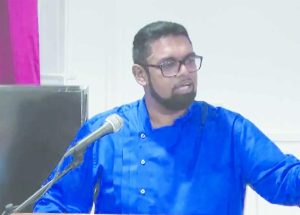 "The ink of history will forever be fresh with his ideas, contributions and sacrifice for freedom, democracy, equality, unity, fairness, and the upliftment of all humanity. These were the value systems of the man. So, the ideas he taught were built around these values; built around freedom, democracy, equality, fairness, and the upliftment of all humanity."
According to the President, Dr. Jagan represented the hope of the working class in a better tomorrow. The PPP/C, according to Ali, was built on the foundation of being a working class party, and it remains so even to this day.
The President noted that Dr. Jagan's ideas and teachings, and to a large extent his methods, still remain applicable even in today's society.
"So, his ideas captured these characteristics, when he put them out there. So, every idea he pursued demonstrated these principles as the core values. He lived ahead of his time. Comrade Cheddi was not a reactionary force, he was a thinking force; so, he was always ahead of his time. If you read the depth of some of what he wrote, you would see how far advanced ahead of society at that time he was.
"So, he lived ahead of his time, but in his death, his teachings remain constant with reality. So, one may say, 21 years after, how applicable are the ideas of this man? But his teachings, his ideas, remain constant. That is why his life is still applicable to the socio-economic transformation of Guyana and the region."
President Ali gave contemporary examples of how the PPP/C continues Dr. Jagan's legacy of uplifting the working class, while at the same time contrasting it with the anti-working-class rhetoric of others.
"The party which (Dr. Jagan) left us is a party of the working class, and the PPP remains wedded to the working class. When we take care of the pensioners, put back the sugar workers to work, take care of the Amerindians, give the uniform grant, give the transportation grant, give free dialysis to all those who need dialysis treatment, that is the party he built to take care of the people.
"Now, the important point to note is that whilst the PPP remains wedded to the working class in uplifting them, some people adopt the myopic position that to be pro-working class means to oppose the business class. This is the nonsense. We do not share this misguided proposition," President Ali said.
According to President Ali, Dr Jagan understood the importance of facilitating economic growth. It is only by enlarging the national pie that Guyana can have more to give to the poor and working class.
Dr Jagan (March 22, 1918 – March 6, 1997) was a dentist who was first elected Chief Minister in 1953, and later Premier of British Guiana from 1961 to 1964. He later served as President of Guyana from 1992 to his death in 1997. Dr. Jagan is widely regarded in Guyana as the father of the nation. (G3)