Ranks of the Guyana Police Force have arrested three persons following the discovery of two illegal firearms, 37 ammunition and 40 ammunition components in three separate incidents.
These arrests were made within eight hours from Friday evening into Saturday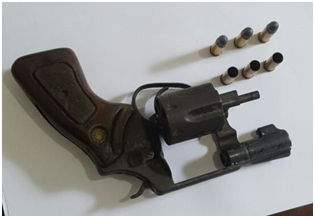 morning at locations across the country.
According to Police reports, sometime around 18:30h on Friday, an alert member of the Rural Constabulary in the Linden community of Wismar observed a male with several bags acting in a suspicious manner.
The Constable approached the 32-year-old unemployed suspect, who hails from Bartica, Region Seven (Cuyuni-Mazaruni) and conducted a search on his person and the bags in his possession during which a number of spent shells and live ammunition were found.
These include six empty cartridges (casing), thirty-one .32 and 9mm spent shell and twenty-one .32 and 9mm live rounds.
Meanwhile, a 41-year-old man was arrested in the wee hours of Saturday, with an unlicensed handgun and 13 rounds of ammunition.
Reports received indicate that the suspect was spotted by an alert Police patrol on the Palmyra Public Road, Berbice, at about 01:30h. Upon noticing the patrol, the suspect attempted to speed away but was intercepted.
The patrol rank subsequently conducted a searched on the driver and his vehicle, which resulted in a 9mm pistol and 13 matching rounds being found on his person.
An in another instance, ranks in F Division (Interior Location) minutes later discovered an unlicensed revolver along with matching ammunition and spent shells.
It was reported that about 01:45h, acting on information received, Police ranks went to a shop at Black Water Backdam, Konawaruk River, Region Eight (Potaro-Siparuni) and conducted a search during which an unlicensed .32 revolver, three matching rounds and three spent shells were unearthed.
Following the discovery, the rank arrested a 56-year-old businessman of Diamond Housing Scheme, East Bank Demerara, who claimed ownership of the weapon and its components.