Ranks of the Guyana Police Force's Traffic Department in Regional Division Three (Essequibo Islands-West Coast Demerara) on Saturday arrested three minibus touts in Vreed-en-Hoop, West Coast Demerara (WCD).
According to the Police, an exercise was conducted between 15:00h and 15:30h to eradicate touts from the various minibus parks in the district.
The three men were arrested by the ranks for soliciting passengers and remain in custody, pending charges.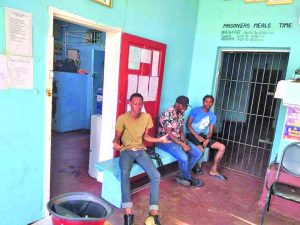 "This will be a continuous exercise to maintain law and order giving passengers the right to choose without being pressured/solicited," the Police release said.
It was only last year that the Police Force restarted its campaign aimed at ridding the bus parks of touts to restore order and civility.
In May of last year, more than 30 bus touts in Georgetown were arrested at various minibus parks and charged for soliciting passengers.
Over the years, uncontrolled minibus touting has become a common practice at minibus parks throughout Guyana, especially in Georgetown.
It has become such a norm that many young adults make it their daily task to earn some income. However, such an act is illegal within the constraints of Guyana's laws and is often viewed as a public nuisance.
In 2019, amid a Police campaign to get rid of touts from all bus parks, those affected begged the authorities not to take bread out of their mouths while promising to act in a more professional manner.
According to the touts, it is unfair for Guyanese who are attempting to make an honest living in a country with a high rate of unemployment to be prosecuted for doing so.
However, the touts admitted that some of them can get too aggressive with passengers, and had vowed to adjust their behaviour.