Young influencers of the Human Services and Social Security Ministry Amrita Naraine, Delisa Quintyn and Raquel Meenkum are in Brussels, Belgium, for the European External Action Service's (EEAS) youth campaign #OurVoiceOurFuture engagements.
Naraine, Quintyn and Meenkum are a part of this current batch of Young Influencers, a Human Services Ministry initiative that is geared towards empowering young people between the ages of 15 and 29 to play an active role in the development of their community and be an ambassador for other youths across the country.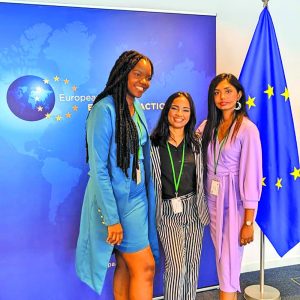 In addition to being a Young Influencer, Naraine is also the lead researcher and consultant to ActionInvest Caribbean Inc. Meanwhile, Quintyn is an International Relations and Affairs student at the University of Guyana (UG) and Meenkum is an Association of Chartered Certified Accountants (ACCA) student.
To commemorate the 75th anniversary of the EU and the United Nations (UN) Universal Declaration of Human Rights (UDHR), the Young Influencers were invited to contribute to the conception and development of the new edition of the #OurVoiceOurFuture campaign.
Recognising that the youth are our future leaders and policymakers, this campaign invites young people globally to be part of the conversation as it relates to human rights and freedoms.
"Being a part of the campaign aligns very well with the mission of the Young Influencers in Guyana which is sharing, connecting, influencing and empowering," Naraine said. "[This opportunity] ensures that I can exact what that slogan reads and I can make a sizable impact, not only in Guyana but on a wider level, to contribute to globalisation."
"I believe that this platform allows me to address the dimensions surrounding what Guyana needs in order to improve a skilled labour force, to address what the current situation of our people in Guyana and people who are moving to Guyana, whether it be through ethical migrant labour or people accessing their rights through developmental initiatives that Guyana is able to offer," Naraine added.
According to Naraine, this event in Belgium was a series of panel discussions with "high-level people within the EU" looking at issues in Latin America, how to fulfil the Sustainable Development Goals (SDG) of the UN and seeking how the influencers would like to contribute towards the effectiveness of the campaign through more innovative and creative ways.
The #OurVoiceOurFuture campaign is largely a social one where young influencers across the world, who were invited to participate, are encouraged to use the hashtag alongside any projects that they are working on or any issues they are addressing that relate to the campaign's mission.
As Naraine had been working on a consulting project researching the ethical recruitment of migrants last year, she used her platform to also produce a video for the EEAS on how to potentially solve the refugee crisis in Guyana.
Within this short video, she suggested opening safe routes for refugees seeking sanctuary and supporting the UN Refugee Agency's efforts to promote the well-being of refugees and provide them with material assistance.
Meanwhile, Meenkum in a separate video addressed the rights of Indigenous women across the Americas, commenting that the quality of education provided to them is limited and thousands go missing every day. She encouraged youths to be respectful of their culture and history.
This youth campaign event in Belgium falls under the set of Europe Day 2023 events.
Europe Day, to be celebrated by the European Union (EU) on Tuesday, signifies a day of peace and unity in Europe as the Schuman Declaration was presented on May 9, 1950. This marked the creation of a European Coal and Steel Community, whose members would pool coal and steel production.
"This May, Europe Day will bring citizens together to learn more about how the EU is supporting peace, security and democracy through its resolve in the face of the Russian war of aggression against Ukraine and other conflicts worldwide," the EU's official website stated.
It added that it will also enable visitors to get better acquainted with the EU's efforts to build a greener Europe that is more digital and competitive, fair and skilled, and resilient and safe.