Digicel's School Football Championship…
Four teams from Berbice have managed to notch clinical victories on Sunday when Digicel's Schools Under-18 Knockout Football Championship continued across to two venues.
Playing at the Paradise Ground, Rosignol Secondary defeated No. 8 Secondary 4-1 via double from Nial Renolds and assistance from Delrico Griffith and Lindon Singh. Renolds scored in the 32nd and 61st minutes, while Griffith and Singh made their mark in the 19th and 58th minutes respectively. Joshua Charles's 36th minute strike was the lone goal for the losers.
In the other match, Berbice School of Excellence edged Fort Wellington 2-1 after Tarone Pompey (13th) and Anthony Alexander (32nd) gave them the lead. Ziekel Johnson scored a consolation goal for Fort Wellington in the 55th minute.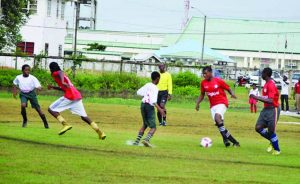 Over at Burnham Park, Kelly Amsterdam's 63rd minute goal made the difference in the Berbice Educational Institute's 1-0 win over Berbice High.
In the other match, Canje Secondary crushed New Amsterdam Secondary 5-1. Tyrese Williams helped himself to a double, with goals in the 29th and 63rd minutes, while Alade Grant in the 40th minute, Elond White in the 66th minute, and Akeem Moses-Bovell in the 69th minute added their names to the score sheet.
The only respite for New Amsterdam was an own goal scored by Canje in the 48th minute.
Close to 160 schools are participating in this year's Championships. At stake is the prospect of gaining top honours and winning one million dollars which will go towards a school project of choice.
Second place finisher will play for $700,000, third $400,000, and fourth $350,000. All money won will go towards a school project of the winner's choice.
The top regional winners of the straight knock-out tournament will be awarded $100,000 each.