–
largest bust in the Atlantic in nearly 20 years
AS Coast Guards have seized some 4.2 tonnes of cocaine in the largest maritime bust in the Atlantic in nearly 20 years.
Four unnamed Guyanese were arrested aboard the fishing vessel Lady Michelle, and taken to Puerto Rico.
Authorities seized the drugs from a boat off South America's north-eastern coast, the US Coast Guard said Monday.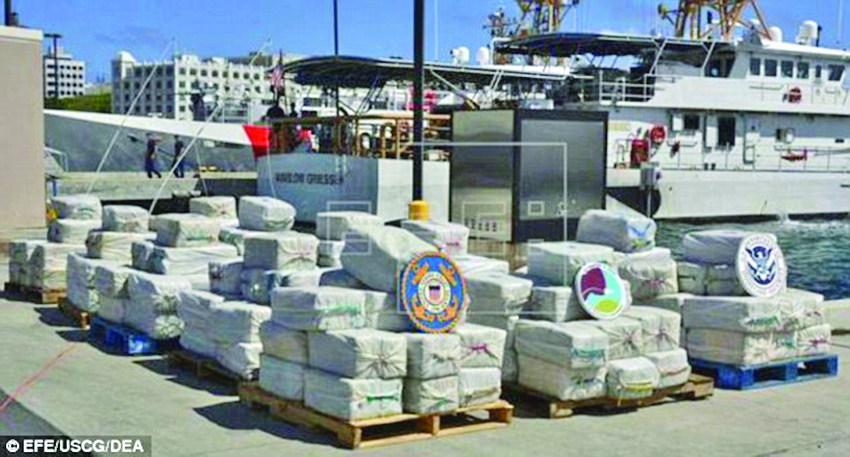 About 4.2 tonnes of cocaine, with an estimated street value of US$125 million, was confiscated from the fishing boat in international waters off Suriname, said Ricardo Castrodad, a spokesman for the US Coast Guard in San Juan.
It was the largest cocaine bust since 1999. Photos provided by the Coast Guard and US Drug Enforcement Agency show stacks of the white substance piled up after seizure.
The 70-foot long fishing vessel was stopped and searched by authorities on February 16 during a joint patrol by the crews of the US Coast Guard cutter Joseph Napier and the Coast Guard of Trinidad and Tobago.
The crew of the Napier, which is based in Port Canaveral, Florida, towed the fishing vessel to St Vincent and the four men on board from Guyana were taken to the US Virgin Islands to face criminal charges.
The Coast Guard took the cocaine to Puerto Rico and turned it over to the US Drug Enforcement Administration.
"As the cocaine flow from South America continues to increase, law enforcement partners in the Eastern Caribbean Region have to increase our collaborative efforts in order to effectively respond to the threat," the DEA's assistant special agent in the Caribbean, James Doby, told Agence EFE.
"Such collaborative efforts are currently underway in the Caribbean Corridor Strike Force, where law enforcement partners are collocated every day," he said.
Last week, US agents confiscated cocaine in during a routine operation in Caguas, Puerto Rico which was estimated to have a street value of $14 million.