A Guyanese man who left his home in January for The Bahamas has disappeared, along with three others, without a trace.
Twenty-nine-year-old Kevin Sukraj, a father of two of Lot C 40 Block, R Sophia, Greater Georgetown, left his home on January 7, 2021, with the intention of travelling to The Bahamas to spend two weeks.
According to details on his boarding pass which he sent to his relatives, he travelled from Guyana to Panama and from Panama to The Bahamas.
His sister, Getta Sukraj, said her brother contacted family members when he arrived in The Bahamas and informed them that he was safe and he was staying at the Two Sisters Hotel at Bimini. She said after arrival, her brother was in frequent contact with his family.
"He told me that when he went to catch the flight, he saw my brother-in-law and his friend, and they were all on the same flight. Since they were together and know each other, when they reached there, they decided to book a room and stay together. They send us pictures and so on," she said.
The woman explained that on January 10, 2021, her brother contacted them and informed them that Police had raided the hotel and taken possession of their passports.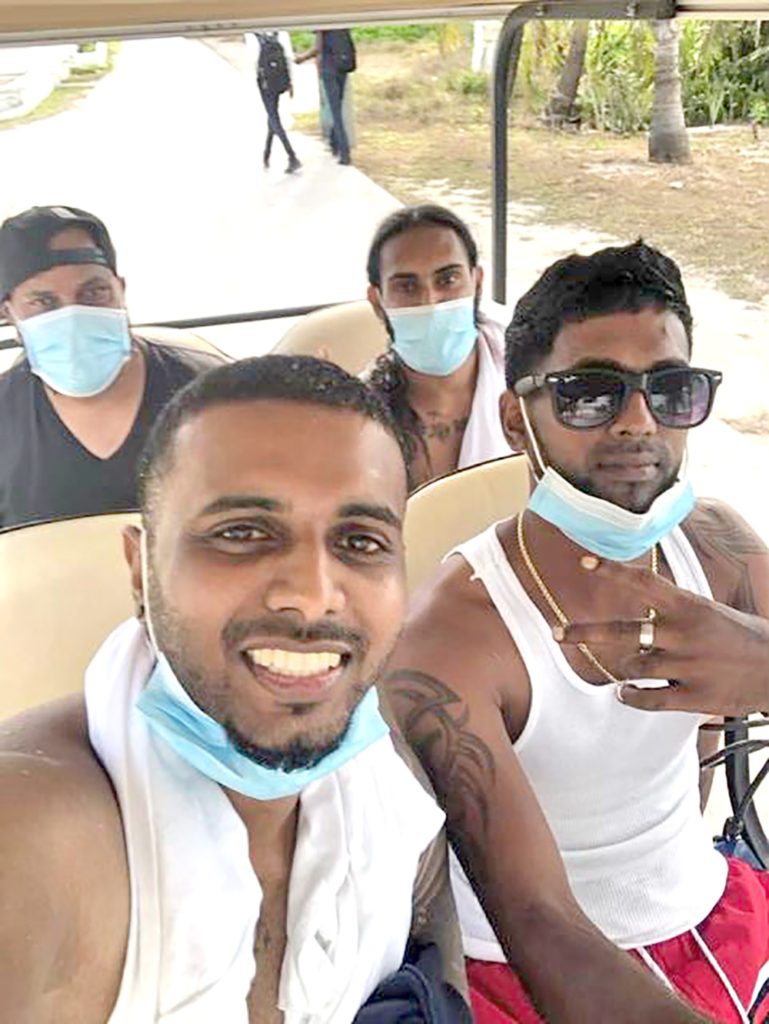 "He said they were in the room and all they hear was a knock on the door, when they asked 'is who', they said the persons said it's the Police and they come and take their passports and told them come to the station. Since then, every day they running to the station and they [the Police] keep telling them come back. On the day they take the passport, he went three times in that one day and they still not giving them the passports," she related.
The woman said because her brother and the other three men who were identified as Krishna Sukraj, Rayan Bhodoo and Anil Deonarine did not have their passports to return, they were forced to stay in the country until February.
She recalled that on February 10, her brother went back to the Police with the aim of getting their passports so that he could return home but to no avail. That was the last time she heard from her brother.
As such, they made several calls to persons in the country to look for the missing men, but all their efforts proved futile.
"It going to three months now and nothing we not hearing from them. My sister in the US called people over there and they said they not finding no information on them … I don't know if immigration hold them, but we are not getting into contact with them. They went for two weeks and their time wasn't up for them to come back when they took their passport."
The missing man's sister said family members visited the Foreign Affairs Ministry to seek assistance, but they did not get any. She explained that their names and numbers were taken by officials at the Ministry, but to date, they have not been contacted.
"We need help to find my brother, because he has two children – a seven-year-old daughter and a six-year-old son. We want persons to listen to our story, because we even went out there to get contact with the President and we can't get contact with him … we need him (Kevin) to come back home," the tearful woman said.
The family is asking anyone in and out of Guyana who might have any information that will help them to find Kevin Sukraj, to contact his family on 647-4893.
Meanwhile, when contacted, Foreign Secretary at the Foreign Affairs and International Cooperation Ministry, Robert Persaud said he was unaware of the situation.
He, however, advised that the family return to the Ministry as soon as possible with the relevant information and officials would contact the Bahamian Consulate to assist in locating the men.