An early morning fire at Bent Street, Wortmanville, Georgetown, has left several persons homeless after four homes were destroyed and neighbouring buildings scorched.
On Friday morning, the occupants were awakened from their slumber to find their dwellings engulfed in flames. The only option was to rush to safety as the flames swept through the wooden structures.
Reports are the fire started at about 05:00h at the properties located between Hardina and Haley Streets on Bent Street, Georgetown. The fire initially started at one of the back houses and quickly spread to two others in front and another on the adjoining lot.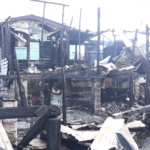 Guyana Times understands that Natasha Morrison resided with her two sons in the first house that was engulfed. The second was occupied by Venezuelan nationals while the third housed another family. The three houses were all flattened in the aftermath.
Meanwhile, one person resided in the neighboring house at Lot EE Bent Street, where the second storey was damaged. The owner, Harvey December, resides in front of the same lot and was thankful his home was saved. He indicated that his wife alerted him that a fire broke out at their neighbor's property, to which he became alarmed. They quickly rushed over and removed a family friend, who was staying at the house before it was razed.
"My wife wake me up. I was sleeping and she said 'Fire!' so all I did was come downstairs and we had to move a family friend who was staying. We had to move her out the house and make sure we get our documents. We didn't really move anything because it didn't make any sense," December recalled.
His son, Yannick December, detailed that all of the houses were occupied by families with children, all of whom were taken to safety. The Guyana Fire Service and the Guyana Prison Service provided resources to ensure that the inferno was brought under control. Neighboring buildings were drenched with water to prevent the fire from spreading. This action saved his father's house and the homes of many.
"I do know that the fire started at the back. There were some children in all three homes that were destroyed at the back there. Where the fire started, there were two children in that home, there were some Venezuelans I think in the other building next to it and in the last one, there was a family with also two children," he explained.
The close proximity of the houses coupled with the morning breeze accelerated the spread of the fire. By the time the fire was brought under control, nothing was saved and charred debris littered the property.
"Of course, most of these homes are wooden so it didn't take long for them to catch afire and the heat was so intense. What I would say is that the firemen did a wonderful job in containing the blaze."
The Guyana Fire Service has launched an investigation to determine the cause and origin. While a complete assessment is pending, losses are estimated in the millions. (Rupa Seenaraine)