SBF Petroleum Jaguars One-day 50 Overs League…
ꟷ Johnson's ton propels Georgetown to 1st win
As play continued in the 5th round of the SBF Petroleum One Day 50 Overs League, Georgetown have recorded their first win; while Upper Corentyne, Lower Corentyne and West Demerara have each also secured wins.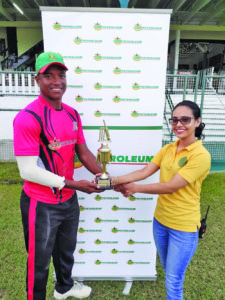 Georgetown won the toss and elected to bat at Georgetown Cricket Club (GCC) Ground. They registered their most impressive performance for the entire league so far by recording the highest score of the league: 292 for 6 in the allotted 50 overs.
Captain and lead scorer Leon Johnson made a massive 104 before his innings ended when Trevon Griffith took a brilliant catch off the bowling of Kishan Singh (2-52). Georgetown benefited from other useful scores from Christopher Barnwell (49), Raymond Perez (27), Winston Forrester (25) and Joshua Persaud (24).
East Bank's attempt to overcome the massive target established by their opponent was dreadful. They managed only 151 for 5 in their allotted 50 overs. Vishaul Singh scored (60), Yudister Persaud 40, Trevon Griffith 20 and Sachin Singh 17. Christopher Barnwell, Qumar Torrington, Leon Johnson, Ashmead Nedd and Steven Sankar each collected one wicket to lead Georgetown to their first win of the league — by 141 runs.
West Berbice sunk by Upper Corentyne
Upper Corentyne took first strike to commence the battle against West Berbice at Bush Lot. Surging to 194 for 8 in their 50 overs, the right-handed opening batsman Alex Algoo top scored with 52, stroking 8 fours in the process before being adjudged leg-before-wicket off the bowling of Andrew Dutchin.
The score was then 2-38, but Clinton Pestano hit 3 boundaries in his valuable contribution of 35; Jonathan Rampersaud batted well for his 32 before his knock was ended by fast-bowler Keon Joseph, who took 2-41. And Anthony Bramble fell to Dutchin for 22.
West Berbice struggled to chase their target. Andrew Dutchin top scored with 31. Keon Joseph, unbeaten, contributed 24 runs and Javed Karim 20. The West Berbice innings closed at 115 with all their batsmen out.
Shawn Pereira remarkably collected 6 wickets in restricting the West Berbice side. Pereira was supported by Eon Hooper with 2-11. Upper Corentyne won by 79 runs.
East Coast collapse under West Demerara's pressure
West Demerara took the decision to bat, and posted a competitive score of 198-7 in their 50 overs. Left-handed batsman Tagenarine Chanderpaul again emerged as top scorer, with 75, before he was removed by Assif Singh who took 2-52. Romario Shepherd (41) and Ronaldo Renee (30) were the other batsmen to attain double figures.
Replying, East Coast collapsed for 114 all out in 39.5 overs. Amir Khan top-scored with 35 runs, but fell to Malcom Hubbard who claimed a 5 wicket-haul. Alex Sital, was not out (29), while Robin Williams scored 18.
Keshram Seyhodan sent 3 men back to the benches as he led his team to victory by a margin of 85 runs.
The SBF Petroleum Jaguars One-Day 50 Overs League continues today, Tuesday October 22, with West Berbice facing Georgetown at the Everest Cricket Ground, Essequibo engaging East Coast at Lusignan, East Bank tackling Upper Corentyne at GCC, and West Demerara challenging Upper Corentyne at Albion. Matches commence at 9:30 hrs.