The Guyana Cricket Board (GCB) in partnership with Dave West Indian Imports, launched the 3rd edition Under-15 tournament on Friday at the GCB Board Room on Regent Road, Bourda.
The simple ceremony, was attended by Executives and Staff of the GCB, along with the Representative from Dave's West Indian Imports, Amar Ramraj along with students from various schools in Georgetown.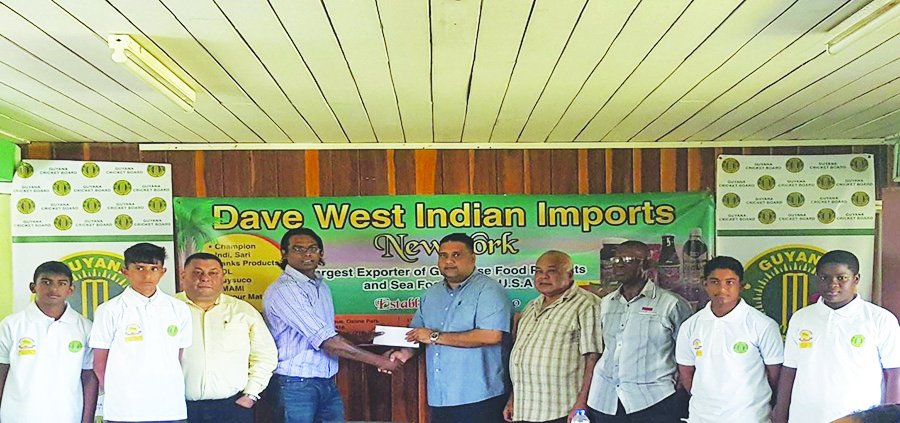 Marketing Manager of the GCB, Rajendra Singh chaired the launching in which he thanked the sponsors for their continued support and noted that with the sponsorship of Dave's West Indian Imports, the GCB were able to offset some tournament expenses which ran in an excess of three million dollars.
Singh, during his remarks encouraged the youngster to pursuit healthy lifestyles and to keep fit as Under-15 serves as the foundation of their cricket career while they make their way up to first class cricket.
GCB Vice- President Fizul Bacchus, took the opportunity to thank sponsors on behalf of the board, for renewing sponsorship in 2018 and added that their contribution goes a long way.
He added that the board is pleased with their contributions which has helped cricketers to have better opportunities to receive branded uniforms and kits throughout the tournament. Bacchus further wished the company all the best with their business and encourages individuals to support Dave West Indian Imports as they continue to give back to the youth of Guyana.
Closing remarks from Ramraj were directed towards the company's gratitude in having joined forces with the board to promote youth cricket. On behalf of the company and owner, Dave Narine, who he represented in his absence, wished the players all the best, adding that the company looks forward to continuously support the tournament as well as youngsters across Guyana.
The Under-15 tournament is scheduled to commence on Sunday February 4 and will run through to Saturday February 10, 2018 with games being played at Lusignan, GCC, Everest and Tuschen grounds and will involve Demerara, Essequibo, Berbice and President 11 teams.