…as distribution begins
The Human Services and Social Security Ministry commenced distribution of the Special Needs Children Fund one-off 100,000 cash grant, in which some 5000 children are slated to benefit.
Recipients received their monies from Minister Vindhya Persaud at the Ptolemy Reid Rehabilitation Centre. The Minister told media operatives that they would have collaborated with the Health Ministry and National Commission for Persons with Disabilities to formulate a list of recipients.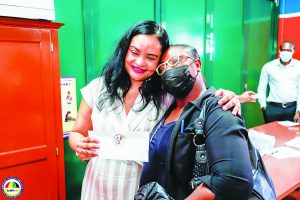 "Each parent or guardian would be collecting $100,000 from the Ministry of Human Services and Social Security. This is a commitment because since I have been there, we have been working with persons within that community and it adds onto other initiatives, where for over a year, we have been providing people with free support aids."
The distribution exercise is inclusive and will provide relief to parents and caregivers, enabling them to provide the best level of care to children with disabilities. The initiative will add some $700 million to the pockets of families with persons living with disabilities.
Addressing the question on access to hinterland communities, the Minister expressed, "We are, as much as possible, going to the closest locations where persons would have applied…In the cases where it is very remote, we will have people going into those areas directly, like the riverine communities. All of that would have been put into place. That is why it is a long process. We're trying to make it as easy as possible."
Some parents and guardians who would have collected their grants, expressed satisfaction at such an initiative.
Wanita Pompey, a mother of four, relayed, "I feel so nice. I want to thank the Government because both my child's eyes have been affected…I am very thankful because I have to get his medication and new glasses for him."
Additionally, Reshauna Long shared that her child is living with autism. As a parent, she said it is difficult to manage and take care of her child. Now with the cash grant, she relayed that it can be used to pay for treatment.
"Sometimes, you don't know what the child wants and it's a guessing game. He also gets frustrated a lot because he cannot express himself…I am thankful for it because we recently had him enrolled in behavioural therapy and it would help a great lot in assisting us to pay for that."
Meanwhile, Theresa Nelson detailed that the money she received would assist in purchasing a wheelchair for her grandson.
"He doesn't walk and he doesn't talk. The grant that I got would help because I does have to take a taxi anywhere I take him, to the clinic or hospital…This would help to boost the situation up. Right now, his walker is getting small. I have to get a wheelchair for him."