Forty-nine-year-old Premchand (only name) has filed a $50 million lawsuit against the Police after he was allegedly beaten by ranks of the Vigilance Police Station, East Coast Demerara (ECD), while in custody resulting in him being paralysed.
The lawsuit was filed by Attorney Anil Nandlall on Thursday and listed Attorney General Basil Williams as the respondent.
Guyana Times understands that Premchand of Lot 125 Strathspey, ECD, was taken into custody on December 26, 2018, after relatives reported a domestic incident. He was allegedly beaten by the ranks while in custody at the station.
In the court documents seen by this publication, Premchand is seeking damages as follows: $10 million for the breach of his fundamental right and freedom to personal liberty as guaranteed by Article 139 of the Constitution; $10 million for false imprisonment between December 26 and December 29, 2018 at the Vigilance Police Station; damages in excess of $10 million for breach of his fundamental right and freedom not to be subjected to torture or inhuman or degrading punishment as guaranteed by Article 141 of the Constitution; $10 million for assault, battery and personal injuries sustained while in custody, and another $10 million for exemplary damages, as well as any further and other orders the Court may issue.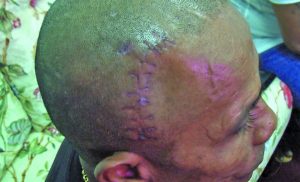 The legal document detailed that on December 26, 2018, Premchand was arrested on a report of alleged abusive behaviour filed by his common-law wife. He was taken into custody by ranks from the ECD station and at the time, except for being intoxicated, he was said to be in good physical health.
While in custody, it was noted that the man vehemently professed his innocence and denied the allegations of verbal abuse made against him. Upon arrival at the station, three ranks started beating Premchand.
"…one of the officers hit him in the head with his gun several times, as a result he fell to the ground; whilst on the ground they kicked him and stamped on his back until he lost consciousness. The following morning, the Claimant (Premchand) regained consciousness and found himself in the Police lockups at the said Vigilance Police Station, experiencing unbearable pain. Shortly thereafter, one of the three officers entered the cell and began slapping and cuffing the Claimant in the face, demanding that he remain quiet, as he was groaning in pain," the court documents state.
It went on to say that Premchand was taken by the officers to a hospital at Nabaclis, ECD, and then to the Mahaicony Cottage Hospital, ECD, where certain medical tests were done and an X-ray examination was conducted at the latter facility. However, by that time, the father of one was unable to walk and continued to experience tremendous pain in his head and about his body.
Premchand was subsequently released on bail from Police custody on December 29, and given his physical condition and injuries observed, he was rushed to the Woodlands Hospital where he underwent brain surgery to effect the removal of blood clots from his brain.
Additionally, a Magnetic Resonance Imaging (MRI) scan showed that his spinal cord was damaged; a Computerisd Tomography (CT) scan revealed a vein in his brain had ruptured; and an X-ray examination was also done.
Premchand was hospitalised for 13 days, where he received treatments for the various injuries sustained. According to the court documents, the two MRIs, the CT scan and the X-ray coupled with continued treatment at the hospital cost $2,060,000.
In addition, $20,000 was spent on food and nourishment, another $50,000 on transportation and some $6000 in loss of income per day. These expenses are continuing.
In an interview with Guyana Times two weeks ago, Premchand's common-law wife, Navita, related that she questioned the ranks about his condition but no answer was provided.
"I went back to the station, they said he was on bail and then I see, three Police [lifting] him in a sheet, bringing him out. I asked why is it that he was walking the other day and three of you fetching him and bringing him out. Nobody answer me," the woman stated.
Premchand's matter is the second report of alleged Police brutality recently. The last incident saw 39-year-old Kalicharran Sawak succumbing to injuries sustained while in the Sparendaam lock-ups in December.
Last month, Police Commissioner Leslie James told the media that if officers are implicated in the Sawak allegations, then they will be sanctioned.
"I would be quite frank, my information is indeed that he was kept, I think, just over the 72-hour period and that is in breach. So of course, wherever the chips fall, we will pursue and whoever is responsible will be faced with sanctions," the Top Cop had said.