…24 arrested
Police ranks of A Division (Georgetown-East Bank Demerara) on Saturday conducted several cordon and search operations where 18 persons were detained and questioned for several criminal offences.
Reports are the operation was carried out by senior Police officers who questioned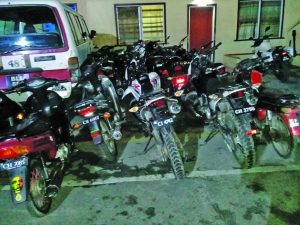 the individuals in relation to robbery under arms, simple larceny and housebreaking offences.
Meanwhile, a similar exercise was carried out between 23:00h on Sunday and 05:00h on Monday by ranks of the said Division at the Georgetown Seawalls from Camp Street to Vlissengen Road.
During this activity, six persons were arrested for various offences and 59 motorcycles were impounded. A dozen cycles were also abandoned by the riders during the operation.
A verification of the authenticity of the documents of the said cycles is being carried out since many are suspected to have been stolen or unlawfully obtained. Some 70 grams of cannabis was also found.