Magnum Cup 2019…
The second edition of the Magnum Cup followed up Saturday's action at the National Gymnasium with nine competitive matches that saw only six teams claiming wins.
Good Life scored the first win of the night when they defeated BV-B 2-0 in the opening match. A goal each from Nicholas MacArthur and Jermaine Tinch was exactly what the doctor prescribed as Good Life secured their first points of the tournament following their defeat to North East La Penitence in Saturday's encounter.
In the match that followed, Kingston produced a shocker as they defeated the mighty Avocado Ballers 1-0 thanks to the efforts of R Hing, who found the back of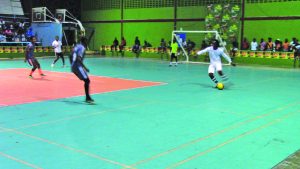 the net in the fourth minute. From there on, Kingston defended well to keep the Ballers at bay for the rest of the night.
Rhythm Ballers were the next team to taste victory as they registered a 1-0 win over Tiger Bay. In their quest for victory, Rhythm Ballers had their work cut out for them as Tiger Bay were no walkover; however, everything changed when Wendell Joseph scored in the 14th minute of the game to hand the Ballers victory.
Gold is Money then needled Stabroek Ballers in the fourth game of the night as the early scoring encounter saw Gold is Money walk away with a 2-1 victory. The game opened with Gold is Money asserting their dominance as Colin Nelson and Randolph Wagner scored in the fourth and sixth minute respectively. Stabroek Ballers' Daniel Gibson was able to score the lone reply in the seventh minute as Gold is Money tightened their defence to stop the Ballers from ending the game in a draw.
It was no surprise when Sophia outplayed Silver Bullets 3-1 as Dwayne McLennon, Simeon Moore and Shemroy Arthur scored goals in quick succession in the 4th, 16th and 18th minute respectively to put the victory beyond doubt despite a consolation goal from Colwyn Drakes in the 14th minute.
The next match saw BV-B lose their second match of the night as they handed the victory to Back Circle 1-0. The goal was scored thanks to the efforts of Selwyn Williams, who found the back of the net in the 10th minute.
When California Square met Capital Strikers, Sparta took on Gaza Squad and Bent Street went against Melanie – all three matches ended with a nil-all scoreline. The action continues on Saturday, February 9 at the same venue as ANSA McAL take on Agricola, Sophia meet Rhythm Ballers, Stabroek Ballers try to match moves with Capital Strikers, Melanie tackle Kingston and Showstoppers line up against Island All-Stars. In the second half of the night, North Ruimveldt try their luck against Mocha, Alexander Village challenge Hustlers, Silver Bullets go head to head with Tiger Bay, and Back Circle battle North East La Penitence while Gold is Money face California Square in the final fixture.